Residents of Syria's embattled city of Aleppo appear to have installed a grid in the Queiq river to catch bodies of executed men floating in the waters. The installation is documented in a photo from January 2013 that was released by international rights organization Human Rights Watch as part of a new report on the executions in the city.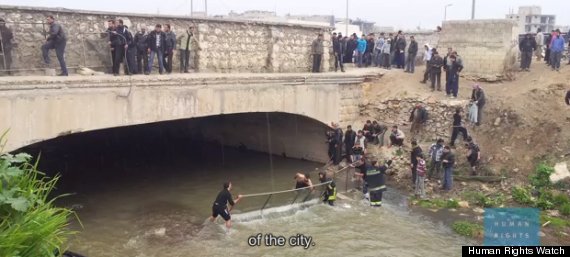 Hundreds of muddied bodies have turned up on the river's banks since January 30, when an initial set of 65 bodies appeared in the water. Many of the victims were found shot in the head with their hands bound.
According to the Human Rights Watch report, local residents say they have collected 230 bodies between January 30 and March 15. The organization was able to count 147 victims itself.
The report adds:
While Human Rights Watch's investigation is not definitive in terms of who is responsible for the executions or their motivation, the location where the bodies were discovered and information about the victims' last known whereabouts indicate that the executions most likely took place in government-controlled areas.
No bodies have washed ashore since mid-March, when the water level became too low to carry victims. "It is unclear whether the executions continued," HRW notes.
A Channel4 film crew witnessed Aleppo residents collecting several bodies in a single day in the spring of 2013. One man was found in the water with his hands tied. Another body appeared to be a child. A third man was discovered naked. "The Queiq's waters once were thought sacred," filmmaker Marcel Mettelsiefen said. "Today, citizens go fishing for corpses."
Read the Human Rights Watch report here, or watch the video below.
BEFORE YOU GO
PHOTO GALLERY
Syria In May: Stalemate Breaks In Qusair