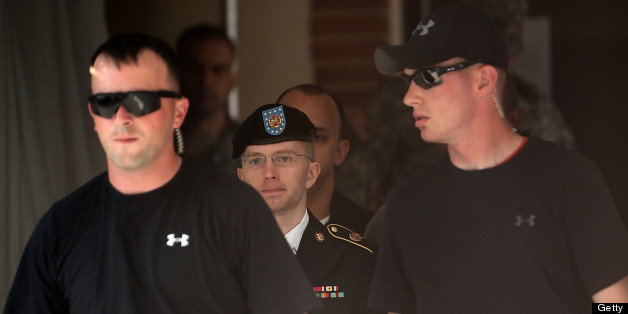 FORT MEADE, Md. -- Bradley Manning bragged about his password cracking skills and the Washington "martini parties" he attended with influential friends, his former Army supervisor testified on Wednesday.
The prosecution called witnesses on the third day of the trial of Manning, the Army private first class who has admitted to giving hundreds of thousands of files to WikiLeaks. Manning's defense attorney said he leaked out of idealism and naivete, but Army prosecutors are trying to paint a picture of an arrogant man who was well aware of the harm his leaks could cause his fellow soldiers and deserves a life sentence for "aiding the enemy."
The testimony of Jihrleah Showman, a specialist no longer on active duty, and another supervisor, Warrant Officer 1 Kyle Balonek, could go toward establishing the recklessness of Manning's leaks for the prosecution. But defense attorney David Coombs tried to show that Manning's Iraq base allowed its soldiers free rein over classified databases, loosely enforced computer security procedures, and encouraged its analysts to read widely.
Showman spoke of cocky comments she said Manning made in Iraq and at Fort Drum in New York. Her memory was spottier, however, when it came to other matters that might help Manning's defense, like whether he was ever reprimanded for his password exploits.
Driving Manning around Fort Drum, Showman said, "typically the conversation involved his topic of choosing."
"He talked a lot about liking to attend martini parties in the D.C. area, having multiple friends with influential status in politics or even in the Pentagon, and then he would talk about shopping," she said.
"He indicated to me that he was very fluent at anything computer. He spoke the language. There was nothing he could not do on a computer."
Manning even boasted of having bypassed a broken password system for the special computers the Army used to access classified information. Showman first said he made that claim at Fort Drum, then changed her recollection to say it had happened in Iraq.
"I was not the only person actually standing around when he said that," Showman said. But asked whether there was any response or reprimand, she said, "I actually don't remember."
Showman recommended that Manning not be deployed to Iraq in the first place, but her supervisors overruled that recommendation. Her suggestion -- and an incident where Manning punched Showman while they were deployed to Iraq -- are both discussed during her prominent screen time in "We Steal Secrets," the recent film about WikiLeaks.
Cross-examining both Showman and Balonek, Coombs extracted answers describing an anything-goes work environment where soldiers would listen to music on classified computers or watch movies when work got slow.
At one point, Showman admitted, she even asked Manning to install instant messaging software on her computer so she could communicate with other parts of the base, instead of going through the unit's computer technician.
"It was never informed to me that it was against the user agreement," Showman said.
That admission could prove valuable for Manning, who admits that he added special software to a classified computer to download 250,000 State Deparment cables and then sent them to WIkiLeaks, but denies the more serious charge that he violated the anti-hacking Computer Fraud and Abuse Act while doing so.
Both Showman and Balonek's testimony supported assertions Manning made in his computer chats about the leaks with hacker Adrian Lamo, that "everyone just sat at their workstations… watching music videos / car chases / buildings exploding… and writing more stuff to CD/DVD… the culture fed opportunities."
Manning's lawyer is trying to rebut government charges that Manning was well trained and supervised to prevent unauthorized disclosures that could wind up in the hands of enemies.
Balonek was testifying under a government pledge of immunity because he was previously targeted for failing to adequately supervise Manning. He said that the soldier was well aware of protections for classified material and had also signed a non-disclosure agreement. But he also admitted that there were no rules against downloading sensitive documents to the computer meant to access them.
Referencing some of Manning's disclosures to WikiLeaks, prosecutor Captain Ashden Fein asked Balonek whether his team of intelligence analysts had ever needed to research South America, or Guantanamo detainee records, or field action reports from Afghanistan.
No, no and no, Balonek said. "Sir, I was in Iraq."
BEFORE YOU GO
PHOTO GALLERY
Guantanamo Bay Revelations From WikiLeaks