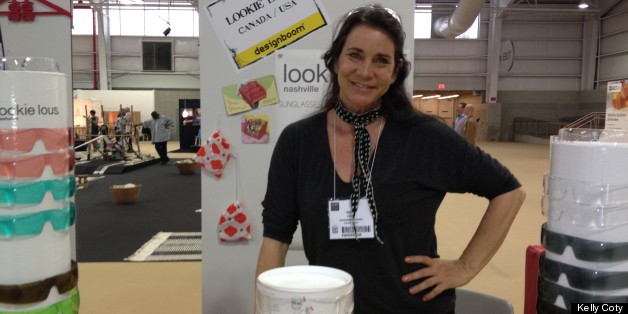 One of the reasons I started my website is that I wanted a place for women to come together and dream. We women need to know that we don't have to hang on to an old dream that has stopped nurturing us -- that there is always time to start a new dream. This week's story is about a mom who was ready for a career switch. Thanks to her daughters, she stumbled upon the perfect idea when she combined their hairbands with her need for readers. Now, this ingenious "mother of invention" is nearing the million-dollar mark with her Lookie Lous -- and it looks like she's not stopping. -– Marlo, MarloThomas.com
By Lori Weiss
Kelly Coty, has a passion for putting everything in its place. So much so, that she built a million-dollar business in Nashville, staging homes for realtors that looked so picture perfect that buyers couldn't wait to pull out their checkbooks and sign on the dotted line.
"I called the company 'Mother of Invention', Kelly said with a smile, "because I'd moved to Nashville from Los Angeles and I needed to find a way to reinvent myself. It was also around the time when everyone was talking about 'finding your bliss,' and what made me happy was the idea of taking nothing and making it into something. I'd see a room and know exactly what I had to do to make it look amazing."
But her own home was a little bit more of a challenge. With two teenage daughters who, like their mom, have long hair, everywhere Kelly looked -- there were hairbands, hair ties and ribbon clips.
"The girls leave them everywhere! And the cat doesn't help. I'd find their hair things in cabinets, in pillow cases, in dryer vents and in sofas. When I'd clean, I'd put the hair ties around my wrists and their hairbands on my head. I looked like a crazy person by the time I was done!"
But that need for organization would serve Kelly well. One afternoon, after she'd finally finished cleaning the house, she settled into her home office, ready to review some documents. She reached for the readers she'd begun wearing on her head once her eyesight got a little fuzzy at 40, and realized she was still wearing one of her daughter's plastic hairbands.
Article continues below slideshow.
PHOTO GALLERY
It Ain't Over: Kelly Coty
"I had 17 pairs of readers," she recalled, "but I could never find a pair when I needed them. And the ones I could find, were all stretched out or broken, because they're not actually designed to be worn on your head! The hairband had been on my head all day and never fell off once. And that was my "Aha" moment! I thought someone needs to figure out how to put a pair of readers into a hairband!
It was 2008 and, as the recession hit, home sales were beginning to plummet. Realtors were less likely to suggest that a homeowner invest money into staging a property that could end up sitting unsold. And Kelly, who was 44 at the time, was thinking that she really didn't want to be making her living by moving around furniture when she turned 50.
"I started Googling to see if there was a patent on my idea. I searched for six hours. And then I paid an attorney to search. And that's when I decided I was going to figure out how to make them myself. But I had absolutely no idea how readers even worked. Was it the plastic or the shape that magnified things? So I did a lot of research and when I read that there's a muscle in our eyes that begins to loosen around 40 -- the muscle that effects focus -- that's when I realized how big the market could be for these."
So, Kelly went to work right at her kitchen table. She took her daughter's hairband and flattened it, traced it onto a piece of paper and then cut it out -- creating a stencil of what the hairband would look like flat. She took that to a local supply store, picked up ten pieces of plastic and went straight back to her kitchen where she put them in the oven to melt, until they were pliable.
"I had a few seconds," Kelly explained, "before they hardened again, so out of ten tries, I got one good example of the way I thought my hairband readers should look. I took pictures and started sending them out to people who I thought could help."
Kelly called dozens of manufacturers and was told time and time again, how expensive it would be to create a mold and that her hairband readers would never pass the drop ball test -- a trial used to be sure that glasses won't shatter in front of someone's eyes. But persistence paid off. There was one manufacturer who understood her vision and, after several attempts, sent her a hinge-free design almost exactly like the one she had envisioned.
So, then there was just the question of money. Banks weren't handing out loans the way they once did, and as a single Mom there were those that thought she was too much of a risk. So she turned to the people who had believed in her from the day she arrived in Nashville -- her design customers. Kelly brought in silent partners and went into production -- ordering 18,000 pairs of the reading glasses she named Lookie Lous, before she had approached even one customer.
"They were all stacked up in my garage," she laughed. "It never crossed my mind that they wouldn't sell!"
And the visionary entrepreneur was right. Her first retail sale was to a high end women's clothing store and the owner bought the readers right off Kelly's head.
"Weeks later," Kelly said with a satisfied grin, "I was telling someone about the product and she said she had bought a pink pair of Prada readers at that very same store. They didn't sell any other readers. They were Lookie Lous."
It wasn't long before the revolutionary readers were discovered by the "Vogue of the eye industry", 20/20 Vision, a trade magazine read by everyone in the optical industry. Soon she was selling her bright idea at trade shows for customers who were interested in modern design.
"I found myself constantly surrounded by crowds of people. I had to have more product shipped to me two days in a row!"
Today, Lookie Lous are in 120 stores throughout the United States and Canada and Kelly's company is closing in on the million-dollar mark. Once again, she has become the "Mother of Invention."
"Lately I've been thinking about something Audrey Hepburn once said: 'The prettiest girls are the happiest girls.' It really is about finding something that makes you happy, that gives you so much energy that you can work past midnight. That's the way I felt about my staging company. But that part of my life was over, and I needed to figure out what was next."
"It's a matter of finding something that fits with who you are today," she said with an air of contentment. "Find something that makes you happy."