Model-turned-actress Jaime King has won our hearts with roles in movies like "White Chicks" and "Sin City," and with her skills portraying Southern belle Lemon Breeland on the CW series "Hart of Dixie."
Lucky for us, we were able to catch up with the blonde bombshell as she helped to kick off the Vidal Sassoon Pro Series "Show Your Genius" contest, celebrating the 50th anniversary of Vidal Sassoon's iconic bob haircut. In honor of this very important date, King sported a faux bob (and a gorgeous printed dress) as we talked her about bad dye jobs, what it takes to stand out on the red carpet and more.
You've tried just about every hair color to date -- red, blonde, brunette. What's your favorite?
Blonde is my go-to, for sure.
From all your years in the business, you must have some hair horror stories?
Yeah, the first time I tried to color my hair myself in Omaha, Nebraska and I turned it orange.
Oh no! How old were you?
13. Not cute.
Have you ever done anything crazy to your hair that you've actually liked?
Yeah, actually, talk about brand synergy. When I was 15 years old and modeling here in New York, I had seen a bunch of pictures of Vidal Sassoon haircuts. You know, they were asymmetrical and really wild. I wanted a bob really badly, but my hair was down to my waist and I didn't want to commit to the full thing, so I had them chop the front into a bob, and keep the back long.
Do you have any celebrities that you look to for hair inspiration?
It's weird, I feel like I look for inspiration from the past rather than what's going on now. For instance, Vidal was the perfect kind of thing where I found a moment in time. It's either been the '60s or Brigitte Bardot in the '50s, like her earlier haircuts. I'm more inspired by things of the past than modern-day women per se.
It seems like you land on our best-dressed list every week. What's your style mantra?
I avoid black as much as possible -- you'll probably only see me in like two black dresses.
And why is that?
Just because I feel like actors, they just go to black because it's an easy thing to do, but I think it's more glamorous and beautiful, even for everyday, to wear a pop of color. Also if I'm wearing something shorter, I won't wear short sleeves, or a low-cut top -- it's all about balancing everything. Like if you're going to do something that has more cleavage, then do a pantsuit with it. I feel like sometimes women think sexy is showing everything, and I'm the opposite, I think it's just showing a little bit and having mystery -- that's really sexy.
It's Friday night, you're going out with some friends and you have no idea what to wear -- what's your go-to outfit?
A T by Alexander Wang satin slip dress with a leather moto jacket, like a lightweight leather moto jacket in case it's cold. And a great pair of strappy heels. Easy, easy.
Are there any trend you are looking forward to wearing this summer?
Well it's so funny, all the stuff that's really on-trend is actually fall. All the stuff I'm trying on, the sample stuff, is heavy, heavy stuff. I guess for me, it's a totally different time because I'm expecting so I'm not really looking to trends per se, but I'm looking to say, 'How can I keep my own voice and sense of style while being pregnant.' And that's really fun.
Speaking of maternity fashion, what do you think of Kate Middleton's style? You must have an opinion, the girl is everywhere!
I think she is so elegant and so beautiful.
You're very involved in the fashion scene, would you ever want to do your own line?
Oh, for sure. There's an idea I've had that I would love to do that is clothing and basics. I'm all about a great basic and practicality -- it's always about having staples in your closet that are really well made and really beautiful, like the perfect sweater, the perfect cardigan, the perfect dress. I would love to create a line of all the perfect necessities.
PHOTOS: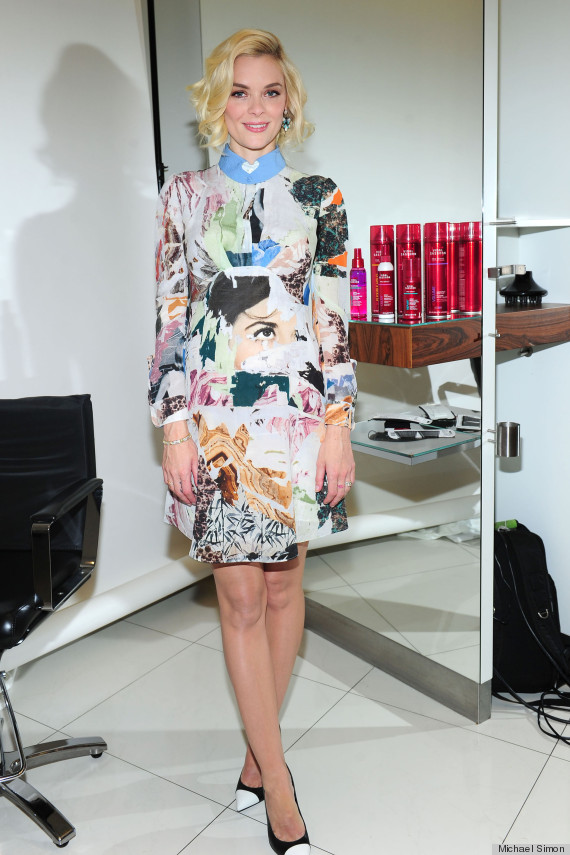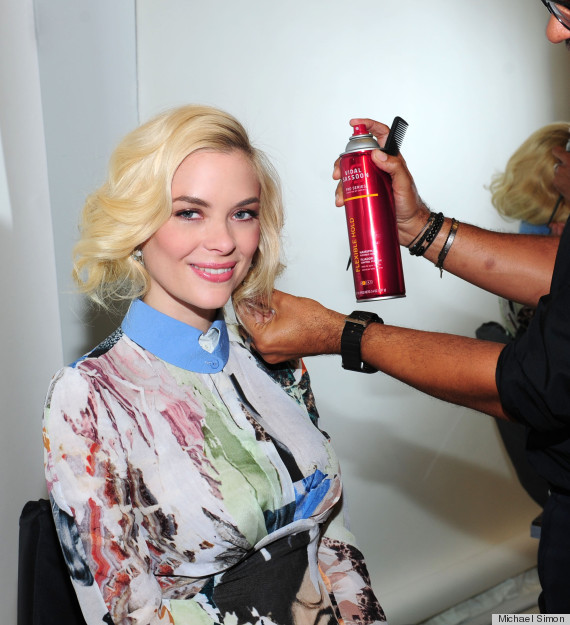 More of our favorite style icons:
PHOTO GALLERY
Vintage Fashion Moments
Want more? Be sure to check out HuffPost Style on Twitter, Facebook, Tumblr, Pinterest and Instagram at @HuffPostStyle.