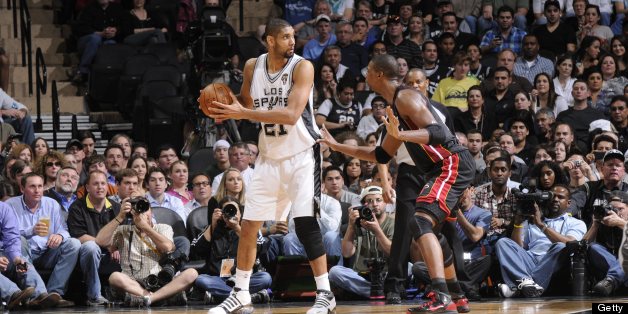 Sure, the 2013 NBA Finals between Miami and San Antonio will feature the sensational play of superstars LeBron James and Tony Parker, but this series will come down to much more than just the two of them. Certainly the timeless Tim Duncan and the injured but always dangerous Dwyane Wade will also have an influence on the outcome. Here are three crucial matchups of the Finals that don't involve James or Parker.
Danny Green vs. Dwyane Wade
Wade hasn't been himself in the playoffs. While his Game 7 performance against Indiana was solid, it was also just the second time in the postseason that he registered 20 points. Green is similar to Indiana's Lance Stephenson, who admirably defended Wade in the Eastern finals. He's a wiry, strong wing who is very physical and terrific at shutting down drivers. He did a sensational job against Stephen Curry, holding him to 23 percent shooting in six games (per ESPN Stats & Info) on the heels of his explosive output against Denver in the first round.
Perhaps the more interesting element to this matchup is how Wade defends Green's superior jump shot. As an elite catch-and-shoot guy, Green nailed 43 percent from three during the regular season and is doing the same through the playoffs. If Green can win this matchup, or at least mitigate Wade's contribution, San Antonio will win the series.
Tim Duncan vs. Chris Bosh/Chris Andersen/Udonis Haslem
It will be very interesting to see how Erik Spoelstra constructs his defense to defend Duncan. Bosh has been awful in the playoffs so far, while both Haslem and Andersen have given great minutes on both ends of the floor. Duncan thrives off pick-and-roll, but if this series goes anything like the last meeting between these two teams (a March 31 Heat road win), then expect Duncan to get a lion's share of isolation post-up chances from either block. Haslem will likely start on Duncan, but Spoelstra -- much as he did against Roy Hibbert in Game 7 against the Pacers -- will send a quick double team his way.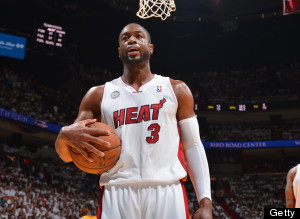 Dwyane Wade has registered 20 points in just two of Miami's 16 playoff games. (Getty Images)
Miami needs Bosh to be productive, if not spectacular. Even if he doesn't rebound especially well, Bosh has to shoot better than the 3-13, 1-8 type of performances he pulled in the Eastern finals. But once again he will have his hands full: According to Hoopdata.com, the Spurs rank third in opponent shooting at the rim (the Pacers were best in the league in that category this season). Bosh is a natural floor spacer, but if Duncan and Tiago Splitter can keep him away from the rim, he isn't much use to LeBron, either.
Gregg Popovich vs. Erik Spoelstra
Both have been to the rodeo before, and both have succeeded. San Antonio players have talked about Pop's renewed sense of energy, and contributing to that may be the fact that this is likely the last hoorah for the Spurs' Big 3. Popovich has done plenty of things right this season, but certainly two of the most significant have been to give the keys to Parker for the second straight year and to spread out the Big 3's minutes, particularly for Duncan and Manu Ginobili, who averaged just 34 and 26 minutes, respectively.
For his part, Spoelstra made a crucial adjustment in Game 7 against the Pacers, sending quicker doubles toward Hibbert and more aggressively shading against David West. Duncan is more skilled and polished as an interior passer, but expect a double or a front on nearly every Spurs possession. Pop has several options for Duncan as a result: he can go high-low because Splitter is also a deft passer, or he can employ even more spread pick-and-roll with Parker. How much Spoelstra counters Popovich, and vice versa, has to be a fine balance, because neither wants to let the opposing coach dictate his style. Make no mistake, the coaching matchup -- as much as, or more than, the players -- could very well determine the result of this series.
Email me at jordan.schultz@huffingtonpost.com or ask me questions about anything sports-related at @Schultz_Report.