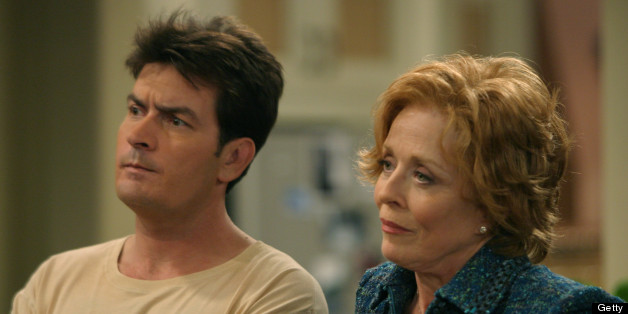 In the past couple years, Charlie Sheen has spent most of his time talking about dragon blood, trading one goddess for a new one and generally "winning." But despite his seemingly unintelligent behavior and rocky past, his former costar has recently gone on the record to sing his praises calling him "as smart a person as you'll ever find."
Before heading back to her theatre roots, Holland Taylor, who worked with Sheen on "Two and a Half Men" before he was replaced by Ashton Kutcher, revealed to Parade magazine, that "anybody who's spent time with Charlie likes him." And, the 70-year-old actress noted, his more unlikeable behavior can all be traced back to the "madhouse way" in which Sheen was raised.
"If you grow up in [Hollywood], you're going to be affected by the atmosphere. And if you go into acting at a young age, watch out," she revealed.
Unfortunately for Sheen, who grew up with movie star father Martin Sheen and broke into the business when he was quite young, he filled the criteria perfectly. "Charlie himself was a teenage movie star with hundreds of thousands of dollars in his pocket at any given moment," she said. "It sounds great to a lot of people, but it's not that easy to mature and to have a regular life."
BEFORE YOU GO
PHOTO GALLERY
Child Stars: From Mild To Wild