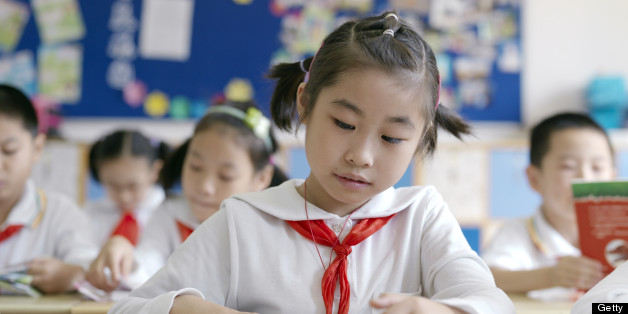 Chinese parents are on board with the idea of having more sex education in their children's schools, according to a recent survey in the Beijing News.
Put together by the news outlet and the Maple Women's Psychological Counseling Center, the survey found that more than 90 percent of Chinese parents support increased sex education curriculum, according to a translation by The Huffington Post. Of the 1,100 parents surveyed, more than 40 percent said their child does not currently receive any sex education in school.
The survey, which comes on the heels of a slew of highly publicized sexual assaults against Chinese girls, sought to understand the amount of sexual safety education taking place in schools. Indeed, of the 107 Chinese children surveyed, 38 percent said they had not been told or taught how to protect their bodies. While almost 70 percent of parents say they have spoken to their children about sex in general, about 20 percent said they had never spoken to them about how to escape or seek help in cases of abuse.
The Beijing News concluded that, based on the survey, schools and parents are not adequately educating children about sexual safety.
Sex education is not mandatory in Chinese curriculum, and talking about sex is often considered taboo in Chinese culture, reports The Daily Beast. Furthermore, efforts to incorporate sex education into the national curriculum have previously been deterred by parental opposition. As noted by The Daily Beast, the country's apparent sex ed "problem" has contributed to a high rate of abortions and a growing number of HIV cases.
However, many have been responding in anger to recent instances of sexual abuse in China. After a recent case where a school principal took advantage of four underage girls, participants in an online protest campaign posed provocatively, holding signs that read, "Principal, get a room with me. Leave the young students alone."
Just this week, the Supreme People's Court promised to get tough on cases of child abuse, according to Fox News.

BEFORE YOU GO
PHOTO GALLERY
Best Countries For Education (Economist Intelligence Unit)