WARNING: Possible major spoilers about "The Amazing Spider-Man 2" discussed ahead.
New photos have emerged from the New York set of "The Amazing Spider-Man 2," and with the pics comes a new round of speculation regarding the fate of Gwen Stacy (Emma Stone) in the 2014 sequel.
In the original "Amazing Spider-Man" comic books, Stacy is Spider-Man's girlfriend and she perishes during a fight between the friendly neighborhood web-slinger and his nemesis, Green Goblin. (The issues, "Amazing Spider-Man" #121 and #122, are commonly referred to as "The Night Gwen Stacy Died.")
"I am a huge fan of the Gwen Stacy saga in the comics," director Marc Webb told HuffPost Entertainment after "The Amazing Spider-Man" was released last summer. "I think it's one of the more interesting and controversial storylines -- certainly in 'Spider-Man' and really in all comics. I think one of the reasons that it was interesting to tell [the] Gwen Stacy [story] is because of that element. But, of course, you need to establish that connection. And we'll see how that unfolds."
Indeed. As many have noted, the new "Amazing Spider-Man 2" set photos show Stone wearing the same outfit that Stacy did in the "Amazing Spider-Man" comics right before her death. Whether or not that's a nod to the original arc or an outright spoiler is unclear; "The Amazing Spider-Man 2" isn't set for release until May 1, 2014.
For her part, Stone seemed very excited about exploring the possibility of her character's downfall. "I think [her death is] a hugely important part of her story and of this incarnation of Spider-Man," Stone told IGN. "I think that was very important to everybody. I think there's a certain expectation and then there's a certain awareness of mortality that Gwen has already [...] just because her father was in the face of death everyday and so is Peter, so I think death always surrounds her. I think it's a really important element to her character. I mean, she, as fans know, is kind of most famous for how she departs. So that's a weird thing to play, knowing about such an iconic part of her existence."
Check out photos of Stone and "Spider-Man" star Andrew Garfield in action on the set of "The Amazing Spider-Man 2" below.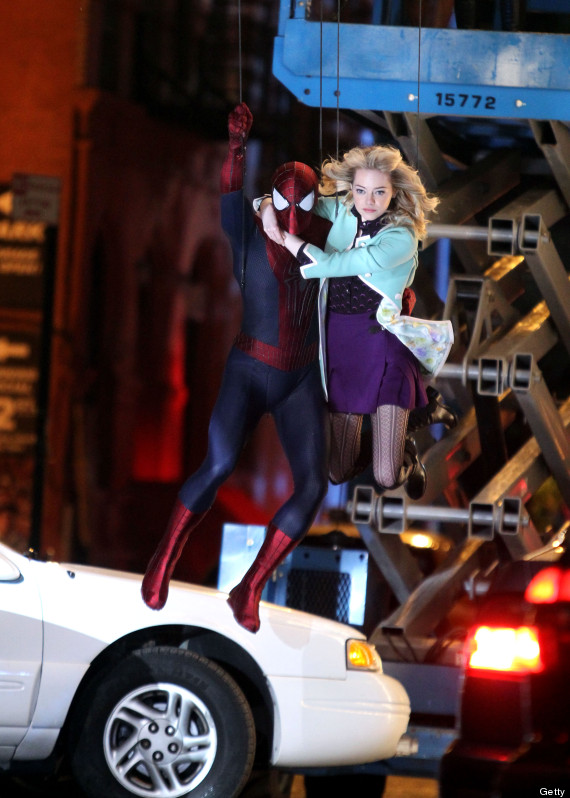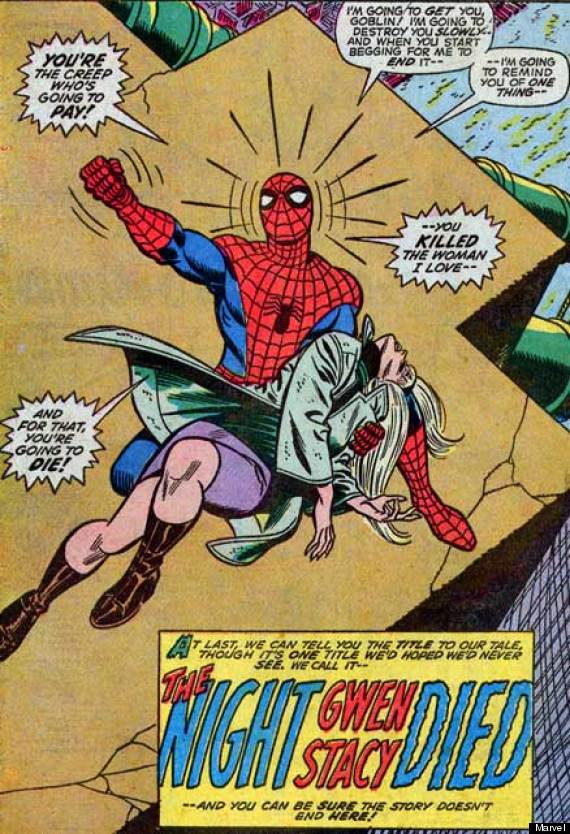 PHOTO GALLERY
'The Amazing Spider-Man 2' Set Photos