California-based agency First 5 is running a new campaign to fight childhood obesity using the image of a chubby little girl drinking a bag of sugar through a straw. Copy printed under her photo says, "Sugary drinks like juice, sports drinks and soda can cause obesity. Choose milk and water instead." The only catch: this young model isn't actually overweight. She's been photoshopped.
Marilyn Wann, author of the book-turned-website, "FAT!SO? : Because You Don't Have to Apologize for Your Size," placed two images next to each other to show the poor photoshop job and posted the composite on Facebook and Tumblr. The image on the left is an original photo of the little girl on First 5's website. The image is on the right is what appears on posters around California.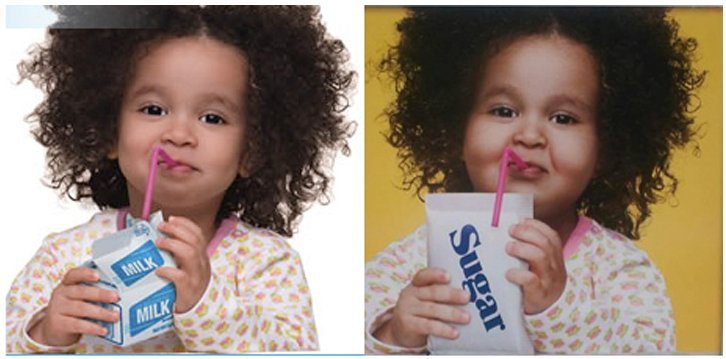 "Children deserve to be protected from this kind of damaging fearmongering. (And from creepy Photoshopping!)," Wann wrote on Tumblr.
Business Insider's Laura Stampler points out that this is hardly the first time that ads have "fat shamed" kids in an effort to combat childhood obesity -- nor is this the only instance when Photoshop has been involved.
This manipulation occurs, despite experts continually pointing out that using images of overweight kids -- who are often ostracized in real life -- is ineffective. In response to a similar widely criticized 2011 campaign, childhood obesity prevention researcher Marsha Davis told The Atlanta Journal-Constitution that making people feel badly about their weight does not lead to change. "We need to fight obesity... not obese people," she said.
First 5 spokesperson Lindsay VanLaningham defended the campaign. "It was intended to show parents the real-life consequences of obesity and what sugar can do to our children's lives," said told MSN.
Jezebel's Laura Beck doesn't buy that argument. "I'll tell you what it's like to be standing with a parent, friend, or bully when you see an ad like that -- it's humiliating, shameful, and sometimes dangerous," she wrote.
BEFORE YOU GO
PHOTO GALLERY
Facts About Childhood Obesity