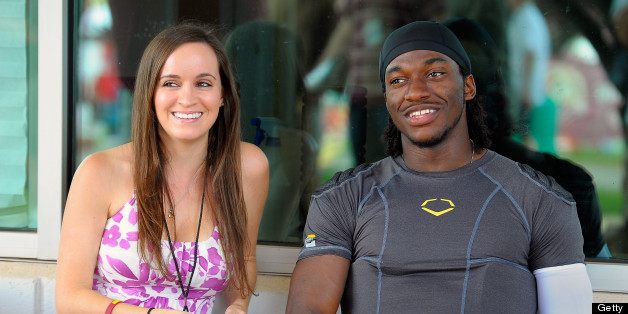 Turns out Redskins superstar quarterback Robert Griffin III is just like you and me.
At least when it comes to why he moved into his new Northern Virginia home.
Turns out RG3 was forced out of his old rented Leesburg, Virginia, home because its owner, Microstrategy Inc. President Paul Zolfaghari, wanted to sell, according to WTOP.
Some of your friends, if not you yourself, have probably been stuck in the same situation.
But don't cry for Griffin. He purchased a new $2.5 million home in May that mysteriously caused conservative radio talk show host Glenn Beck to throw a fit (about bathrooms). And with nearly 9,000 square feet, the Rookie of the Year and his fiancée, Rebecca Liddicoat, will have plenty of space in which to enjoy the many wedding gifts fans sent them.
Check out some photos of RG3's new home! Story continues below...
PHOTO GALLERY
RG3's New Home
And it turns out RG3 is totally down to earth when it comes to real estate, according to the agent that sold him the house. Well, at least for someone who buys a multi-million dollar home.
"I deal with all these guys, and it's just kind of funny to see how he was," Casey Margenau told WTOP. "It's very nice to see a guy who is that in demand and who has that much going on - that he's really down-to-earth."
One of the reasons: Margenau said Griffin turned down a $4.5 million house because it was "too big."
You know what else might be too big? These houses:
PHOTO GALLERY
D.C.'s Most Expensive Houses
BEFORE YOU GO
PHOTO GALLERY
LA Celebs Who Bought And Sold In May 2013