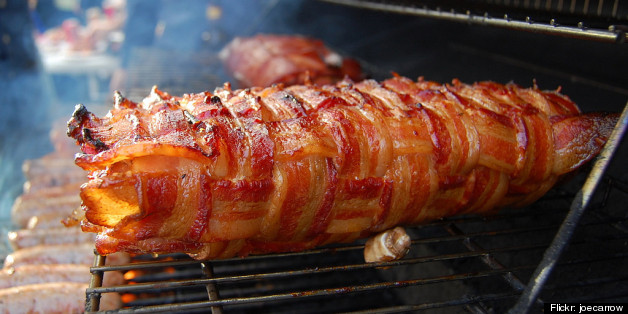 This may or may not be news to you guys, but America loves bacon. We love bacon so much that we wrap whatever we can in this smoky meat. We even put it in our desserts without shame. According to the bacon infographic below created by Gift Rocket, American restaurants pair their bacon most often with dates, followed after that by ice cream. Bacon is definitely top dog in the food world.
If you love bacon as much as the rest of us do, then we know how you should spend your summer vacation this year: road tripping the U.S. to taste all the best bacon dishes America has to offer. Below, you can find the top-rated bacon dishes in 10 major U.S. cities. Austin makes a mean bacon root beer float. And Philly is making bacon foie gras. We think this information is reason enough to get in the car and drive across the country. Who's coming with us?
Check out the other top bacon dishes below.

Want to read more from HuffPost Taste? Follow us on Twitter, Facebook, Pinterest and Tumblr.
Check out what else you can make with bacon.
PHOTO GALLERY
Bacon Recipes