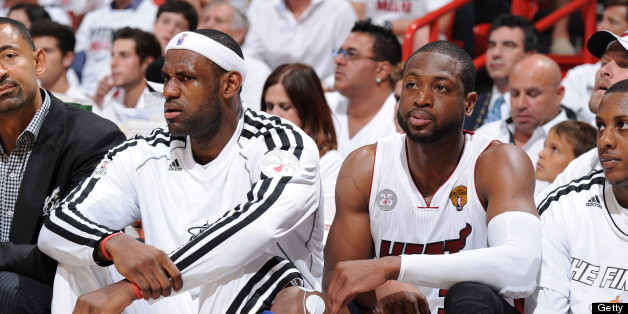 The Indiana Pacers may not have been able to defeat the Miami Heat in Game 7 of the Eastern Conference Finals but they may have done them in Game 1 of the NBA Finals. After the Heat dropped the Finals opener to the San Antonio Spurs, 92-88, in Miami, both LeBron James and Dwyane Wade cited fatigue from the seven-game battle with the Pacers as a factor.
"Obviously, I thought that we were a little fatigued, honestly, in the fourth quarter, looking around," Wade said after the game, responding to a question about late turnovers. "We looked like a team that came off a seven‑game series. I thought we got some shots we wanted. But we were a little careless at times as well. We turned it over."
The Heat carried a 72-69 lead into the fourth quarter but faltered down the stretch. The Spurs won the fourth quarter 23-16, with the Heat turning the ball over five times.
"The fourth quarter was the difference. And I could see it on a few of our guys' faces, [they] felt a little fatigue, still a little banged up from the seven games series," James told reporters during his postgame media availability when asked about Wade's comments. "And they looked like they were rested in the fourth quarter and took advantage of that."
Whatever it was that James saw on his teammates faces, Magic Johnson saw in their actions.
"I think that Pacers series took a lot out of the Miami Heat and they can't recover right now," Johnson said during ESPN's postgame coverage. "I don't see the same speed and quickness from the Miami Heat that I saw in that Pacers series."
Entering the Finals, Spurs general manager R.C. Buford wasn't sure if his team's nine-day layoff would help or hinder its performance in Game 1.
"We don't know how to react to rest vs. rust," Buford told USA Today Sports. "It is what it is, and we're trying to prepare and maintain focus and rhythm and reduce opportunities for an injury. But there isn't a perfect (practice) program that gets you there. At our age, the rest is appropriate, but we'll find out if it works or not when we go back to playing."
Listening to the Heat stars, it sounds like the rest worked.
BEFORE YOU GO
PHOTO GALLERY
PHOTOS: NBA Finals Game 1