Adorable alert!
Beyonce, 31, took a break from The Mrs. Carter Show World Tour to unwind and cuddle with her beautiful baby girl, Blue Ivy.
Bey posted the photo to her Tumblr page, Beyonce | I Am. In it, she's seen relaxing in a hot tub with Blue Ivy, 1, resting on her chest. Little Blue Ivy is wearing a striped swimsuit and has a tiny bow in her hair, her famous mom has her hair covered up and giant sunglasses on her beaming face.
Jay-Z's lady posted a few more photos of herself enjoying the vacation hot spot. In one photo, she is riding a bicycle around, looking completely natural. In another, she's lying on the grass, her arms blissfully spread out.
Just last weekend, Beyonce used her Tumblr to refute claims that she's pregnant. After the Internet went wild with speculations for a few weeks, the "Single Ladies" singer posted a photo of herself sitting on Jay-Z's lap and sipping wine. Alcohol, as most people know, is ill-advised for women who are expecting.
PHOTO: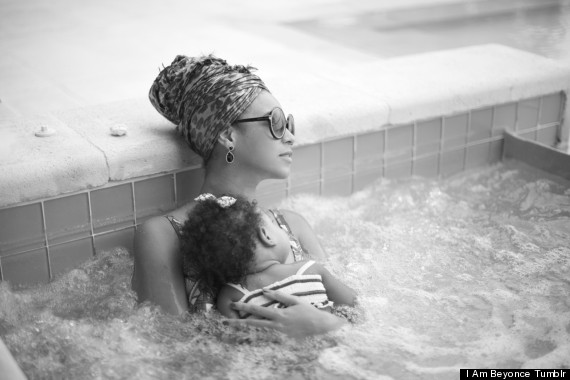 BEFORE YOU GO