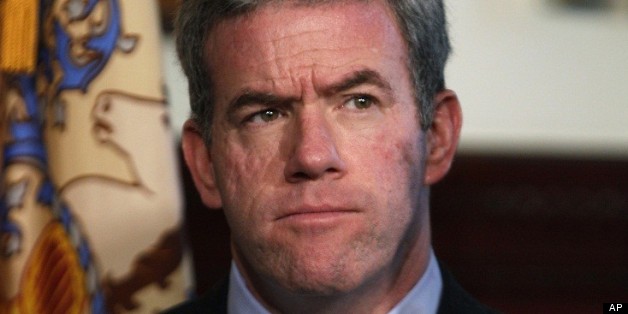 With the death of longtime New Jersey Sen. Frank Lautenberg (D), Republican Gov. Chris Christie has named someone to temporarily fill the seat until New Jersey holds a $24 million special election in October. The guy who Christie named to fill in is his attorney general, Jeff Chiesa, a Republican of whom the Atlantic's Philip Bump writes: "Don't spend too much time memorizing how to spell that tricky last name: He'll only be in the seat for the next 130 days or so."
And during most of that time, Washington will be at its most unpleasantly humid. Sorry about that, dude.
Yes, Chiesa, whose name I'll probably only have to type a couple more times in my life, won't be running in that special election. Chiesa will thus join the annals of American political history as one of the great "blink and you'll miss him" members of Congress -- men and women sent to Capitol Hill to briefly play a part in our representative democracy as glorified seat-fillers. Some have passed their time quietly. Some have left their mark. One only served a day.
But they kept the seat warm when their country most needed it. And by and large, since they were only a part of the policymaking apparatus for such a short time, you really can't blame them for all of our broken institutions and widespread national calamities. Not much, anyway!
Dean Barkley: When Sen. Paul Wellstone (D-Minn.) died in a 2002 plane crash, then-Gov. Jesse Ventura (I) was inclined to wait for a special election to determine who would take his place. That changed, however, after Ventura attended Wellstone's funeral, and got angry at the way the speakers celebrated Wellstone's legacy as a liberal reformer by rallying in support of liberal reform. So Ventura sent Barkley, who served as the chairman of his gubernatorial campaign, to Washington for 61 days. Barkley would eventually run for the seat himself in 2008 as an independent candidate, but finished third behind Al Franken and Norm Coleman. In 2012, Barkley mounted an unsuccessful bid for Minnesota Supreme Court.
Barkley's sole legislative accomplishment was sponsoring the Paul And Sheila Wellstone Center for Community Building Act, which was signed into law by President George W. Bush in 2002. Barkley thus has had precisely one more sponsored bill signed into law than his fellow Minnesotan, Rep. Michele Bachmann (R), who will serve four terms.
Nicholas Brady: Sen. Harrison Williams (D-N.J.) served in the U.S. Senate from 1959 to March 1982, when he abruptly resigned for doing a bad, bad thing -- namely, getting convicted in the FBI Abscam sting operation. So New Jersey Gov. Thomas Kean (R) named Brady, a Republican, to serve in the Senate for eight months. Can you name they guy who eventually replaced Brady? That's right! It was Frank Lautenberg!
Brady went on to serve as the secretary of the treasury under Presidents Ronald Reagan and George H.W. Bush, where he is best known for coming up with the "Brady Plan," which led to "Brady bonds," which were issued "in an attempt to minimize and reduce the amount of debt accumulated by emerging Latin and South American countries." He also got to have his signature placed on money. So while he only served in the Senate for a brief period, he went on to plaster his name everywhere.
Jocelyn Burdick: Jocelyn Burdick, a Democrat, was appointed to the U.S. Senate to temporarily fill the North Dakota seat of her husband, Quentin, who died in office. Her three months in office were not particularly notable. Eventually, she was replaced by Sen. Kent Conrad, a Democrat who was way, way into idiotic deficit commissions.
Roland Burris: Oh, man, remember this guy? Former Illinois Attorney General Roland Burris (D) ended up serving in the U.S. Senate for about two years, in the aftermath of the Great Rod Blagojevichdammerung of 2008. Blagojevich tapped Burris at a very whack-a-doo press conference, and his appointment was almost immediately called into question, over Illinois Secretary of State Jesse White's refusal to certify Burris' appointment. Burris came to D.C. expecting to be seated, but Senate Majority Leader Harry Reid refused. There was a huge row, and everything was eventually resolved -- probably because everyone was just up to their eye-teeth in Roland Burris fatigue -- and Burris was seated at last.
It was not a storied career. Burris had a difficult time grappling with the basics of how the government functioned, and during those struggles, he was prone to babbling about "the meat that caused us political scientists to even exist" and other such things. He got himself embroiled in an ethics scandal, just for good measure. And then there was a bunch of michegas about whether he would or would not, or could or could not, run in the special election for the seat, that I'm not going to recount for you because it is just so exhausting.
Burris remains, to this day, the proud owner of the most ornately braggy death monument that you can possibly imagine. He hates the media for everything.
Mo Cowan: Hey, so maybe while Chiesa is in Washington, he can spend a few weeks kicking it with Mo Cowan (D), who was appointed by Massachusetts Gov. Deval Patrick to fill Sen. John Kerry's seat while Massachusetts voters sort out whether their next elected senator is going to be Rep. Ed Markey (D) or former Navy SEAL Gabriel Gomez (R). Maybe the two of them can bond over being briefly appointed as seat-warmers, or perhaps develop a storied bromance?
"This is going to be a very short career," said Cowan. "I am not running for office. I'm not a candidate for public service at any time today or in the future."
Dave Curson: The abrupt resignation of Rep. Thaddeus McCotter (R) in 2012 over what turned out to be fraudulent ballot signatures on his nomination petitions forced Michigan to have a special election, pitting union organizer Dave Curson (D) against (the allegedly deeply weird) Kerry Bentivolio (R), who would eventually go on to win the seat outright. Curson, however, was the victor of the special election, and he got to serve a seven-week term, during which time he and his four-person staff camped out in spare cubicles in the office of Michigan Rep. John Conyers.
The Today Show records Curson's memorable moments thusly:
"One of coolest parts was my grandson came on the House floor when I got sworn in -- two grandsons,'' he said. "And (they) were there when I took my oath. I know they'll tell their grandkids about it."

The seven-week congressman will also forever have the title "the Honorable Dave Curson'' for his service.

"Oh yeah, my friends are having great fun with that,'' he said. "I don't really care for that one, when my family calls me 'honorable this or that' because I know they're poking me."
Elaine Edwards: When Louisiana Sen. Allen Ellender died during his Democratic primary battle with challenger J. Bennett Johnston Jr., Louisiana's governor, Edwin Edwards, appointed his wife, Elaine, to fill out the remaining 3 1/2 months of Ellender's term. Which is a pretty nice for a husband to do for his wife, right? Alas, no! As Leo Honeycutt wrote in his book, "Edwin Edwards, Governor of Louisiana," Elaine "hated the fishbowl of politics." The couple divorced in 1989. Let that be a lesson to you!
Rebecca Felton: Here's where the historical record of the briefest congressional careers gets a bit controversial! Per NPR:
The Senate Historical Office, when queried about the shortest Senate tenure in history, lists Rebecca Felton of Georgia, who was appointed in October of 1922 following the death of Sen. Tom Watson. Felton, 87, was the oldest person ever appointed to the Senate, the first woman, and -- according to the Senate office -- served in the Senate for just one day. That is, President Warren Harding called the Senate into a special session in November. Felton gave a brief speech on Nov. 21, 1922 -- predicting, interestingly, that many more women would eventually come to the Senate -- and then gave up her seat to Walter George (D), who had been elected to the seat earlier in the month.

But while Felton only served in the Senate for a day, she was actually in office from Oct. 3 until Nov. 21 -- seven weeks. Not the shortest tenure.
If you're feeling bad about how the first woman senator only got to do Senate stuff for about 1 to 49 days, depending on who you ask, perhaps you'll feel a little bit better after I tell you that Felton was a huge white supremacist monster?
Sheila Frahm: Kansas Sen. Bob Dole (R) thought it would be a good idea to resign his Senate seat so that he could spend all his time concentrating on getting beat like a drum by Bill Clinton in the 1996 presidential election. Who came out ahead? Sam Brownback, that's who! But first, Kansas Lt. Gov. Sheila Frahm (R) got to serve about 5 1/2 months in Dole's stead. Then Brownback beat Frahm in the subsequent August special primary election.
Brownback is now the governor of Kansas. Frahm went on to become the executive director of the Kansas Association of Community College Trustees. Bob Dole went on to be a boner-pill pitchman who is now incredibly disappointed in the Republican Party.
Carte Goodwin: In 2010, West Virginia Gov. Joe Manchin appointed his chief counsel, Carte Goodwin (D), to fill the seat of the deceased West Virginia Sen. Robert Byrd (D) long enough for Manchin (D) to run for the seat himself and win.
Goodwin served only four months, during which time he assisted in getting Supreme Court nominee Elena Kagan confirmed, along with securing the passage of a much needed extension of unemployment benefits.
Despite that, he appears to be something of a "Mr. Cellophane" figure. My colleague Amanda Terkel remembered only that "he was the guy whose name had an 'e' on the end of it."
HuffPost Politics editor Paige Lavender, who is from West Virginia, said, "I guess he didn't really form an impression." When I told Lavender that Goodwin was named one of the "10 Most Successful Young Executives in West Virginia," she responded, "Well how hard is that, really?" When I told Lavender that Goodwin was a huge fan of the West Virginia University Mountaineers sports teams, she said, "Everyone is."
Sorry, Carte Goodwin!
Paul Kirk: The Dean of the Fraternal Order Of Dudes Who Recently Held Very Brief Senate Careers From The State Of Massachusetts is probably Paul Kirk (D), who was briefly sent to Washington to serve in the Senate after the death of Ted Kennedy.
Nothing about Kirk's brief tenure as senator was quite as exciting as the process by which he became a senator in the first place. Coming as the battle to pass Obamacare was still reaching the boiling point, Kirk's appointment was controversial because of a little presto-change-o routine run by the Democratically-controlled Massachusetts state Legislature.
See, way back when Massaschusetts Sen. John Kerry (D) was running for president, Massachusetts Democrats fretted that a Kerry victory would leave an open Senate seat into which then-Gov. Mitt Romney (R) could make an appointment. So they changed the rules on Mitt, passing a law that precluded an appointment in favor of a 90-day period when the seat would remain open, followed by a special election. Kerry didn't end up winning the presidency, so none of that ended up mattering.
Until 2009, that is! When Kennedy died, it suddenly became disadvantageous for the Democrats to have an empty Senate seat sitting there for 90 days, so the Massachusetts Legislature switched the rules and passed a quick law allowing Gov. Patrick to appoint an interim senator. The GOP pleaded for an injunction, to no avail.
Of course, the Republicans ended up having the next laugh when their nominee, Scott Brown, beat Democrat Martha Coakley to end the brief period in which the Democrats enjoyed a filibuster-proof Senate majority. But I guess the Democrats had the last laugh when they passed the Affordable Care Act anyway, and then bounced Brown in 2012 in favor of Elizabeth Warren.
Bob Krueger: Krueger, a Democrat who served two terms as the Texas 21st Congressional District representative to the House, was appointed to the Senate in 1993 by Democratic Gov. Ann Richards to replace Lloyd Bentsen, after Bentsen was selected by President Bill Clinton to serve as the treasury secretary. This was all back during the time that Democrats could get elected to be a U.S. senator, or the governor of Texas.
Krueger's six-month term was the end of all of that. Krueger managed to place second in the subsequent, crowded special election that was held to fill the seat, ending up in a runoff against Texas State Treasurer Kay Bailey Hutchison (R), who beat him in the first round by only 99 votes. Krueger fared worse in the runoff, however, losing 17,000 votes from the initial ballot, as Hutchison picked up scads of support from the vanquished.
George LeMieux: Florida Sen. George LeMieux's (R) year-and-a-half tenure in the U.S. Senate came about when Gov. Charlie Crist (D) hatched the genius plan to have LeMieux, his chief of staff, appointed to keep Sen. Mel Martinez's (R) Senate seat warm long enough for Crist to win the seat for himself.
It's pretty funny how all of that turned out, isn't it?
Shelley Sekula-Gibbs: On this list of brief officeholders are those who participated in matters of significance and those who simply faded into the background. But there's only one whose brief term could rightly be called a Holy Reign Of Horror And Bloodletting And Misery, and that is Texas Rep. Shelley Sekula-Gibbs (R), who briefly filled the seat of the indicted Tom DeLay.
Sekula-Gibbs came to the office in a fairly odd fashion, with the vagaries of how Texas opted to fill Delay's seat creating an election in which she was elected "to fill the vacant seat in Texas' 22nd District for the final two months of the 109th Congress -- while simultaneously losing her write-in bid to win a full two-year term in the seat." (The big winner, in other words, was Democrat Nick Lampson.)
As Alex Pareene pointed out, her two-month term really only amounted to 10 days of actual work, but DeLay's former staffers -- who'd agreed to hang on through the transition -- found her to be "mean." How mean? So mean that they all resigned, en masse, within a week of meeting her.
A Bob Novak column eventually revealed that the "last straw for the DeLay alumni was when they were instructed by Sekula-Gibbs to make sure President Bush and Vice President Cheney were seated in the gallery for her swearing-in."
"The word on Capitol Hill is that she must have been really obnoxious for staffers to give up two months of easy pay," wrote Novak. DeLay's former chief of staff, David James, eventually told the Houston Chronicle, "Never has any member of Congress treated us with as much disrespect and unprofessionalism as we witnessed during those five days."
So there you have it. Shelley Sekula-Gibbs: the woman who terrified and enraged the staffers of a guy who was colloquially known as "The Hammer."
Louis Wyman: The "closest election in Senate history," according to Senate.gov, was the endless New Hampshire Recountapalooza of 1974-75, pitting Democrat John Durkin against Republican Louis Wyman in a battle to claim the Senate seat of the retiring Republican Sen. Norris Cotton.
On Nov. 5, 1974, Wyman won the election by 355 votes. Durkin asked for a recount. After the votes were recounted, Durkin was the apparent winner, by 10 votes. Wyman demanded another recount. After the votes were re-recounted, Wyman was the apparent winner, by two votes.
That's when things got complicated. Durkin appealed to the Senate Rules Committee for a review. This touched off weeks of wrangling:
On January 13, 1975, the day before the new Congress convened, the Senate Committee on Rules and Administration tried unsuccessfully to resolve the matter. Composed of five Democrats and three Republicans, the Rules Committee deadlocked four-to-four on a proposal to seat Wyman pending further review. Alabama Democrat James Allen voted with the Republicans on grounds that Wyman had presented proper credentials.

The full Senate took up the case on January 14, with Wyman and Durkin seated at separate tables at the rear of the chamber. Soon, the matter returned to the Rules Committee, which created a special staff panel to examine 3,500 questionable ballots that had been shipped to Washington.

Following this review, the Rules Committee sent 35 disputed points to the full Senate, which spent the next six weeks debating the issue and took an unprecedented six cloture votes, but resolved only one of the 35 points in dispute.
Finally, Wyman convinced Durkin to just have a do-over election on Sept. 16, 1975, which Durkin won by more than 27,000 votes.
But here's the salient detail! While all this was going on, Norris Cotton retired early on Dec. 31, 1974. New Hampshire's Republican Gov. Mel Thompson went ahead and appointed Wyman to the Senate to fill out Cotton's term. By "fill out Cotton's term," I mean, "hang around until Jan. 2." At that point, it became an open seat, and as all of wrangling went on, Thompson eventually just reappointed Cotton.
So Wyman ended up serving all of two days in the Senate, succeeding and preceding the man he'd hoped to replace.
But that's New Hampshire for you!
John Celock contributed to this article.
[Would you like to follow me on Twitter? Because why not?]
BEFORE YOU GO
PHOTO GALLERY
Chris Christie's Greatest Hits