Looks like Beyonce is putting those pregnancy rumors to rest.
The singer, who has been facing dozens of reports that she's expecting her second child with Jay-Z, may have proven once and for all that she's not -- that's right, NOT -- pregnant.
Bey stepped out in a skin-tight striped skirt and matching crop top last night (June 8) for Kanye West's birthday party at Miss Lily's in NYC. Her stomach -- or shall we say six-pack abs -- were on full display in the super sexy Topshop outfit as she flashed her toned midriff for everyone to see. Yup, no baby bump here.
The rumor mill kicked into high gear after Beyonce cancelled a show in Belgium due to extreme exhaustion and dehydration last month. Still, neither Bey or Jay commented on the baby news -- that's until the speculation got out of hand. When questioned about the reports during the "Chime for Change" event in London last week, Beyonce joked to "Today" show host Savannah Guthrie, "What kind of rumors? What? Huh? Huh? I don't know what you're talking about."
Plus, the 31-year-old posted a photo hinting there really isn't a baby on board on her Tumblr page earlier this month. In the snapshot, Beyonce sits on Jay-Z's lap while sipping red wine at a restaurant.
Check out Bey's body-baring look below: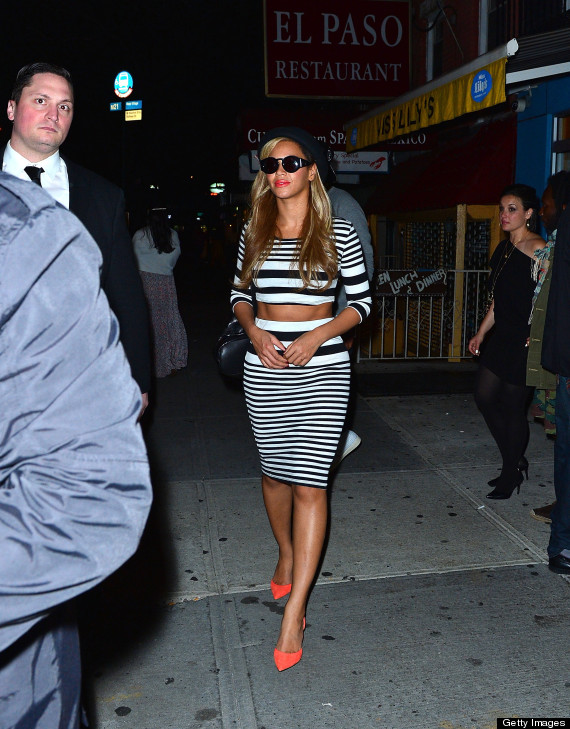 BEFORE YOU GO