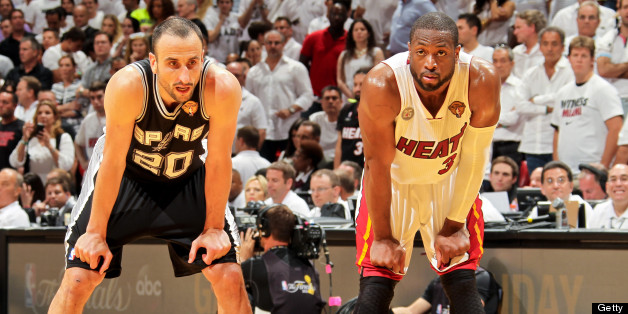 Are you having fun yet? Dwyane Wade isn't. Nevertheless, the Miami Heat and San Antonio Spurs treated us to a thrilling Game 1 of the 2013 NBA Finals. Thanks in part to a circus shot by Tony Parker, the Spurs pulled out a 92-88 upset in South Beach to open the best-of-seven title bout.
Miami Heat
vs.
San Antonio Spurs
AmericanAirlines Arena
Miami, Fla.
9:00 PM ET, June 9, 2013
A day before Game 2, Wade told reporters that the second meeting with San Antonio was a must-win situation.
"We're not a team that really says too much, 'this is a must-win game'," Wade said, via Sports Illustrated. "But this is a must-win game. For us, we have to win this game at home. We have to come out and play a lot better and we have to also expect San Antonio to play a lot better, shoot a lot better."
The Spurs were able to grab a 1-0 series lead, despite LeBron James' triple-double. The defending champs took a lead into the fourth quarter but were outplayed by San Antonio down the stretch. After the defeat, both Wade and James cited fatigue from Game 7 of the Eastern Conference Finals with the Indiana Pacers.
Will San Antonio be able to upset Miami on the road again? Will LeBron, Wade and Chris Bosh be able to avoid having to travel to San Antonio down 0-2? Or will Game 2 once again remind LeBron of his Cleveland days?
Scroll down for live updates.
06/09/2013 10:33 PM EDT
"Tony hit him with a great pocket pass and Splitter had a runway to the rim, and I was just like 'make a play.'" - LeBron on his block

— The NBA on ESPN (@ESPNNBA) 3 years ago
06/09/2013 10:31 PM EDT
Stats
Chalmers shot 50 percent from the field (6 for 12) with two 3-pointers. He finished with 19 points. LeBron ended up with 17 points on 7 for 17 from the field, while Bosh and Wade combined for 22 points.
Tony Parker only had 13 points on 5 for 14 from the field and he had five turnovers. Tim Duncan had 9 points on 3 for 13 from the field.
The entire Spurs starting lineup had a minus in the +/- category. Duncan (-14), Leonard (-21), Splitter (-2), Parker (-27), Danny Green (-9).
06/09/2013 10:26 PM EDT
OVER
Heat win 103-84. They just went off in the fourth quarter.
06/09/2013 10:24 PM EDT
Explosion
With 3:16 left in the third quarter, the Spurs were winning by 1. Now they are down 100-82 in the final minute...
06/09/2013 10:19 PM EDT
Rashard
Rashard Lewis just made a long 2. Rashard Lewis. 98-71 Miami.
06/09/2013 10:17 PM EDT
VIDEO: Better Video Of The Block
Watch: LeBron James rises up for the BIG block on Tiago Splitter - es.pn/103LF90 #NBAFinals

— The NBA on ESPN (@ESPNNBA) June 10, 2013
06/09/2013 10:16 PM EDT
Blair, Mills, Bonner, Joseph, McGrady will attempt to finish this out with dignity.

— Pounding the Rock (@poundingtherock) 4 years ago
06/09/2013 10:15 PM EDT
All the LeBron fretting turned out to be like a weather alert that got canceled

— J.A. Adande (@jadande) 4 years ago
06/09/2013 10:14 PM EDT
The story of the game was the magnificence of Kawhi and Green, and then some stuff happened, and holy cow look at that score.

— Zach Lowe (@ZachLowe_NBA) 4 years ago