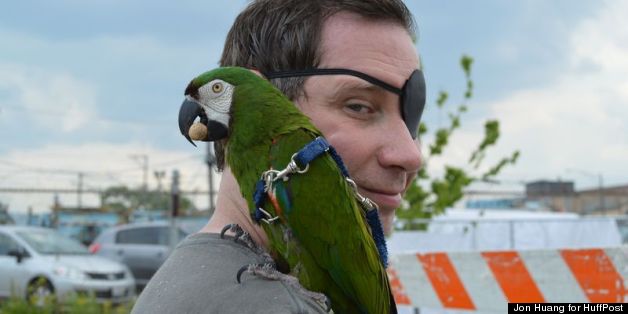 The combination market, feast and general low-key spectacle that is Bellwether set up for its very first happening at the Hideout this weekend.
While Chicago outdoor markets and fests are as plentiful as they are pet-friendly, Bellwether decided to go completely to the dogs by hosting a pet parade for the market-goers' four-legged friends (including HuffPost's favorite French bulldog) — and the lone parrot in participation.
(See photos of the Bellwether pet parade below.)
Chicago designer Erin Borreson caught a clip of the brief parade:
The two-day market put on by the folks behind Renegade Craft Fair and Vintage Bazaar joined forces for the new food, shopping and community event; it's a gathering co-founder Libby Alexander hopes to bring back for a few repeat visits.
"We're hoping to do it twice a year going forward with special versions of Bellwether here and there if the right opportunity comes to us," Alexander told HuffPost Chicago.

Alexander said the idea to add the pet parade to the market belonged to friend and co-organizer Leah Mathos. "We tied in One Tail at a Time so they could spread the word about adopting, fostering, and volunteering for the rescue organization. And really, who doesn't love watching adorable pets and their pet parent walk along an open-air market?"
"It didn't rain on our parade! It was a doggie daydream!" Tim Tuten, co-owner of The Hideout, said via email. "Families and friends, old and new, all celebrating creative artisans, all to support One Tail at a Time, now with many tales to tell!"
Beyond the pet parents, the parade was a crowd-pleaser among the shoppers, as well, Alexander said.
"All of the shoppers and Bellwether vendors had huge grins on their faces during the parade."
PHOTO GALLERY
Pets On Parade!
Bellwether is happening next at Garfield Park Conservatory, Sept. 21 and 22.