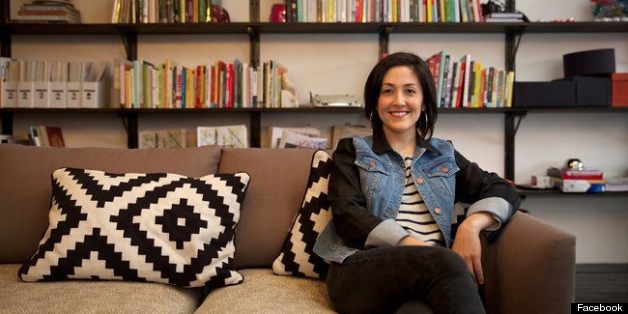 Grace Bonney is one of the best-known stars of the crowded design blogosphere. Through her gorgeous blog Design Sponge and possibly more gorgeous book, she single-handedly convinced the world that DIY design can be stylish and beautiful. She's an advisor to small businesswomen, a preservationist and has been featured and profiled in too many publications to count. And as she revealed in a blog post on June 10th, Bonney is also gay.
She wrote:
Today I wanted to take a brief moment to share something that is very personal, but very much about the strength and goodness of the people who make up our online community...

Two years ago I went through the process of coming out to my friends and family. It was, at times, painful and scary. Coming out is different for every person, but for me, it was very much about learning to slowly accept and then love myself just the way I am. Despite my worst fears of losing the people I loved most, I have been incredibly fortunate to find the support of not just my friends and family, but members of the design community as well. In my heart of hearts, I never expected to hear from people I'd never met, offering words of support, guidance and love. But it was those words and that support that got me to where I am today.
In the blog post, titled "A Personal Note," Bonney, who was once married to marketing strategist Aaron Coles, went on to explain why she decided to come out now, the day after her 32nd birthday. "I've done my best to be as open and honest myself as I can," she wrote, "But for a long time I've struggled with holding a part of myself back. And that's made me feel disconnected and not as close to the community of people I love and admire as I would like. So today I wanted to take a moment to proudly share with you the full story of who I am."
That makes Bonney the second gay woman currently having an enormous impact on personal style. Bonney has transformed the way a lot of us think about home decor. J.Crew president and creative director Jenna Lyons, whose present influence on women's fashion is so vast it's difficult to measure, was outed as a lesbian by the New York Post in 2011.
So far the comments on Bonney's post (which she presumably moderates) have been overwhelmingly supportive.
"Hi Grace, Thank you so much for being so honest and sincere, I am amazed by your strength and openness. I wish you all the best," wrote Irit Shani.
Gabrielle Treanor echoed that sentiment, "Congratulations on such a brave post, I can only imagine that it must have been very difficult to write. It rarely occurs to me to think about the sexual orientation of the my favourite bloggers and so it makes no difference to me. You feeling happy and comfortable and open is enormously important, as it is for everyone so I'm glad that you can now feel more you in this space."
Commenter Amy wrote, "When I first came out to my close friends and family, all I wanted to hear was that I am loved just how I am... So Grace, I, for one, definitely love you just as you are and I don't think any differently of you. As a young person, seeing someone that I respect and admire be honest with themselves and the world is very inspiring and gives me a lot of hope."
Click over to Design Sponge to read Bonney's full post, including her account of what sounds to us like the best way to spend a Sunday afternoon ever (hint: Robyn and Beyonce were involved).
BEFORE YOU GO
PHOTO GALLERY
Designers To Watch