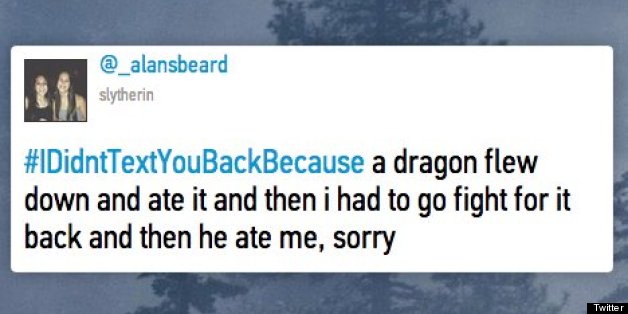 "The Trending 20" is a regular series where we round up interesting, informative and hilarious tweets from worldwide Twitter trending topics, fueled by young tweeters on the interwebs. Have one to submit? Give us a shout @HuffPostTeen.
Let's face it: We're all guilty of breaking textiquette from time-to-time. However, according to the worldwide Twitter trending topic today #IDidntTextYouBackBecause, your friend's poor texting response-time may be more than just an impolite accident. (#Sorry.)
Click through the slideshow below for 20 sad/hilarious reasons teen tweeters ignore their text messages. Share your own additions the comments or tweet @HuffPostTeen!
BEFORE YOU GO
PHOTO GALLERY
Trending 20