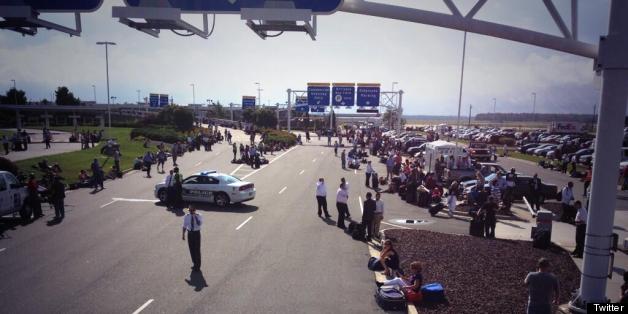 Four bomb threats were made at three major venues in three different states on Tuesday, prompting evacuations and sweeps at the Richmond International Airport in Virginia, several buildings near the Georgia Capitol building in Atlanta, and the entirety of New Jersey's Princeton University campus.
Though the threats came within three hours, the FBI isn't looking into any correlation between them at this time.

By 3 p.m. EDT Tuesday, only the bomb threat at Princeton -- and a minor bomb threat that did not prompt evacuations at the University of New Hampshire -- was still being investigated as police swept the campus.
A representative with the FBI national press office told The Huffington Post that the threats are being investigated as unrelated incidents.
"Right now I'm told these are still local matters, with the FBI assisting as or if needed," said FBI spokesman Jason Pack.
Local FBI representatives in New Jersey and Virginia said they weren't briefed on the bomb threats outside their respective jurisdictions.
The first bomb threat was received at 6:10 a.m. Tuesday by the Richmond International Airport in Virginia. Flights were delayed and hundreds of travelers were evacuated, many of them standing in the streets with nowhere to go. The terminal was reopened by 9:40 a.m., after a sweep by police and canine units.
The details of the "threatening call" are part of an ongoing investigation and are "not available for release," said Sgt. Thomas Molnar of the Virginia State Police.
In Atlanta, two separate threats were received around 9 a.m. and led to the evacuation of several buildings near the Georgia state capitol building. Evacuated structures included the Judicial Building, which houses the state attorney general's office and Supreme Court, as well as a nearby building that houses offices of most of the state's lawmakers. An "all clear" was issued about two hours later.
Around the same time, in New Jersey, Princeton University was shut down after a bomb threat was made to "multiple, unspecified buildings" on campus, officials said.
All employees working on campus were ordered to leave and to "not return to campus for any reason." The campus was still being cleared Tuesday afternoon.
BEFORE YOU GO
PHOTO GALLERY
Dangerous Days