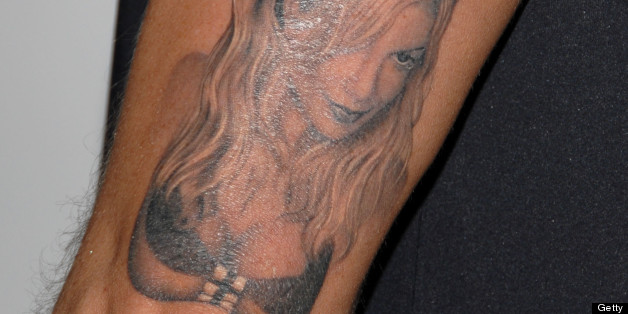 Seven years of marital bliss, four children and many tattoos later, Dean McDermott and Tori Spelling appear pretty darn happy together. And to prove it, McDermott opted to get yet another tattoo in her honor to go with the one of her face that can be found just above his elbow. But it seems that this one might just be for her eyes only.
"OMG My husband@Deanracer just surprised me w/hottest Tori@ tattoo in an unbelievably intimate spot. I'm blown away #Tori Tatted 4 life," Spelling revealed on Twitter. And while McDermott could be spotted leaving a Canadian tattoo parlor with a covered-up right arm Thursday, her tweet indicates that the additional ink dedicated to his wife is in a less viewable spot.
Either way, Spelling seems thrilled with his decision, especially after she opted to proclaim her love for her husband in a seven-line tattoo on her side. Hope their love's just as permanent as the ever-expanding ink!
BEFORE YOU GO
PHOTO GALLERY
Celebs Who Got Tattoos Of Their Spouses