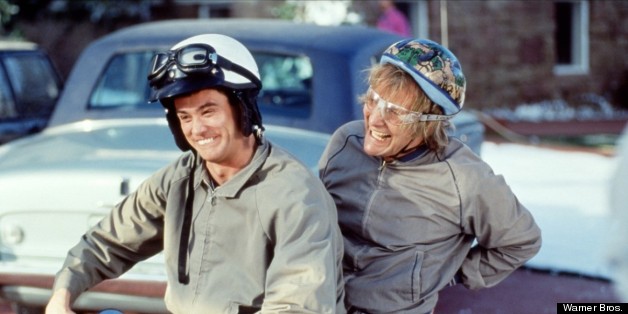 There's still a chance? According to THR, Warner Bros. has passed on the opportunity to make a sequel to "Dumb and Dumber" with original stars Jim Carrey and Jeff Daniels. It's not all bad news: Directors Peter and Bobby Farrelly are free to take the film, which THR reports has a budget of around $30 million, to other studios and companies. According to Deadline.com, financing company Red Granite could step up to back the film, with another studio -- possibly Universal -- cutting a deal for the sequel's release.
That Warner Bros. was lukewarm on "Dumb and Dumber To," the sequel's intentionally daft title, should come as little surprise. Last June, Carrey momentarily stepped away from the project citing a lack of interest from the studio.
"I would have thought 'Dumb and Dumber To' was a no-brainer, after all it's implied in the title," Carrey said in a statement. Whether Carrey officially left is unclear; he's still attached to "Dumb and Dumber To" in its current, studio-free form.
"Jim wants to do it. I want to do it. The Farrellys want to do it," Daniels told Crave Online in August of last year. "They want to rewrite the script a little bit and they aren't trying to jam it in before I have to go back and do 'Newsroom' in November. So they're going, 'Why don't we just do it right? Let's get everybody organized to go next May or June.' If everything works out on the business side, that's what we'll do but I think there's more hope than ever."
Plans for "Dumb and Dumber To" have been discussed in some form or another since February of 2011, when the Farrelly brothers expressed interest in returning to the lives of Harry Dunne and Lloyd Christmas.
"It picks up today," Peter Farrelly told Moviefone last April during press for "The Three Stooges." "It's 17 or 18 years later. It's not like a month after that happened. It's today. And we explain what they've been doing all those years."
For more on the possible "Dumb and Dumber To" save by Red Granite, head to Deadline.com. For more on the Warner Bros. decision, hit THR.
[via THR, Deadline.com]
PHOTO GALLERY
Funny Jim Carrey Moments