As Chicago fans and players alike have been growing good-luck playoff beards in support of the Blackhawks bid for the Stanley Cup, one suburban fan decided to go a step further.
"They're growing their playoff beards, so I just decided, you know what, it hit me: I'm going to make a playoff lawn and I'm going to make a sign for it and I'm going to embrace it. So, embrace my ugly lawn," Frank Miller told CBS Chicago.
The Park Ridge resident had his hands full after heavy storms flooded much of the Chicagoland area in April — including Miller's basement; with all the cleaning, bleaching and repairing, Miller told WGN lawn maintenance fell by the wayside.
After being teased for the shaggy state of his yard, Miller decided to deem it a "playoff lawn beard" and stuck a sign in the grass (Miller told WGN he works for Trader Joe's in Park Ridge, which becomes obvious after looking at the craft on his lawn sign).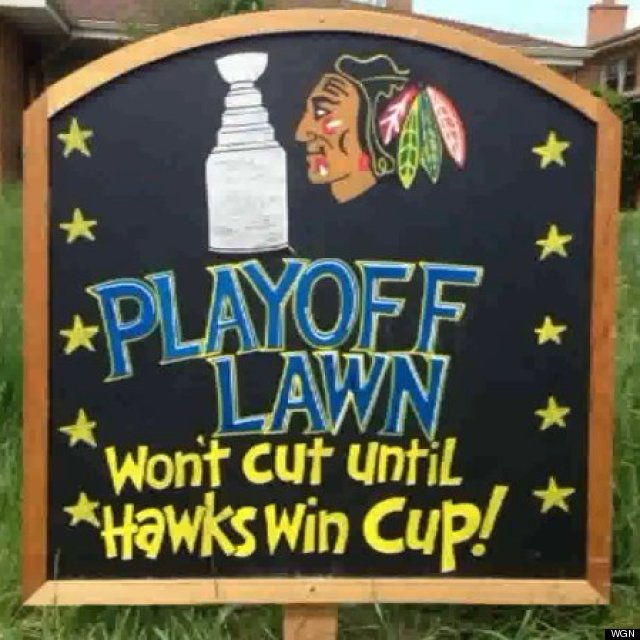 Unfortunately for Miller, not everyone was behind his display of fandom.
"I was watching the playoffs one night with my son and hear a lawn mower going off, and I come outside, 'What are you doing?' The guy was cutting my lawn with a giant industrial-sized mower, and he said that the city had come and paid him to cut my lawn," Miller said according to NBC Chicago.
Summing up Miller's playoff lawn, WGN notes, "it was awesome while it lasted."
BEFORE YOU GO
PHOTO GALLERY
Blackhawks In Action 2013