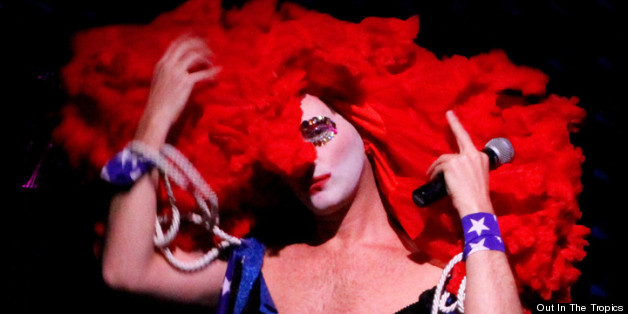 This article courtesy of Artburst Miami.
By Juan Carlos Pérez-Duthie
Out in the Tropics, a contemporary performing arts festival that brings cutting-edge gay, lesbian, bisexual, transgender, and queer artists or works to South Florida this week, offers a kaleidoscope this year.
"This is not just a gay festival, but a festival that celebrates the GLTBQ culture," explains Ever Chávez, founder and director of FUNDarte, the local non-profit artistic organization that presents the festival. "We are not in the ghetto. We are provocative."
Running June 13 to 16, the fourth annual Out in the Tropics festival features an impressive lineup.
El Ciervo Encantado (The Enchanted Deer), a daring lesbian theater collective from Havana, makes its U.S. debut with the very satirical, very funny and very Cuban interactive performance "Cubalandia" on Friday and Saturday.
Queer Cuban American performance art veterans from New York City, Carmelita Tropicana (Alina Troyano) and her sister filmmaker Ela bring their latest work, "Post Plastica," on Saturday.
Wildly original actor, singer/songwriter, playwright, and gay stage wonder Taylor Mac, presents his "A 20th Century History of Popular Music Abridged" on Friday.
And the all male, hunky, and versatile string and singing quartet Well-Strung performs to everything from Vivaldi to Gaga on Sunday.
"I like the idea that Out in the Tropics is open. I like openness," says Carmelita Tropicana.
"We are in a world that thinks differently about identity. What identity was in the '80s is no longer the same thing," says the Havana-born artist. "We all want a huge public, but how do we continue to push the envelope, how do we continue making things that matter, saying something?"
Saying something is what Cubalandia does, making us marvel at how director Nelda Castillo and actress Mariela Brito get away with what they do: being critical of life in Cuba and of all its harsh realities via the hilarious, eye-popping role of Yara La China, personified by Brito.
"This is a piece with a lot of urgency," says Castillo by phone from Cuba. "All our works have been strongly critical of the problems we face, but we have never been censored because they are serious and well-researched."
Castillo sent Brito on a trip around Havana to find out what people were saying and how they were reacting to the changes of Raúl Castro. This led to the creation of a piece two years ago in which Yara La China becomes the audience's tour guide on a trip across the island.
"We discovered that the subject, although it stems from a local angle, works well because the theme is universal. It's the theme of surviving in difficult conditions," adds Brito. "And people connect."
BEFORE YOU GO
PHOTO GALLERY
Out In The Tropics