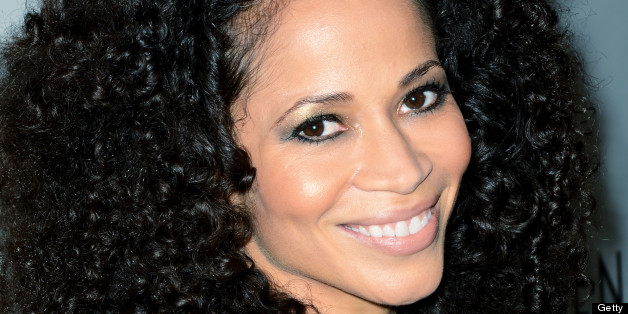 Sherri Saum of ABC Family's new sitcom, "The Fosters," which boasts Jennifer Lopez as executive producer, recently chatted with Elixher.com.
During the candid interview about the series that highlights a multi-ethnic lesbian family, the actress discussed preparing to play a lesbian, being judged by real lesbians and more.
When asked what type of response Saum has received in regards to the show, the actress, who has also appeared on "Girlfriends", "Charmed" and "Gossip Girl," said that the response has been "overwhelming" and "genuine."
"Everybody has just been so sincere about how much they enjoyed the show and how much they were surprised they enjoyed [it]," she said. "ABC Family maybe wouldn't be their first choice for television but they were pleasantly surprised."
Before the show aired Saum had a few lesbian Twitter followers who were skeptical of her taking on a role as a lesbian wife and mom.
"They were like, 'OK, Sherri Saum, I see that you've got this show. I'm going to withhold judgment until I see it.' They were kind of skeptical, " Saum explained.
"One woman in particular, I got a tweet from her after the premiere and she was really satisfied and happy and entertained with what she saw. So that meant a lot because I knew she wasn't going to give me a free pass."
Saum, who identifies as straight and is married, had no reservations about playing a lesbian character. Love was the pinnacle of preparing for her role.
"When I got into playing [the character], the thing about being in love with a woman, it was just this groundbreaking feeling. Love is love and I just really got that point. Everyone was like, 'Well, how did you prepare to be a lesbian?' [Laughs.] And you know, I had that moment of oh my gosh, I have to prepare to be this lesbian," she said.
"And then I just threw that all out the window and decided I'm just going to love her, love Stef [my wife on the show], and surround everything in love."
Jennifer Lopez recently sounded off on the show as well and revealed that it was inspired by her lesbian aunt.
"I had an aunt who was gay. I lived with her and I loved her. She just passed away from cancer," Lopez explained during an interview with Entertainment Tonight in April. "I thought of her often when I was thinking about taking on this project and the prejudices that she faced."
Click here to read the entire interview with Saum.
BEFORE YOU GO
PHOTO GALLERY
Favorite Gay TV Couples