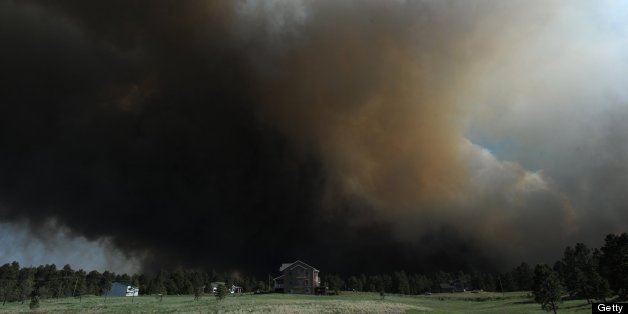 After a string of 90-degree days and with wildfires springing up across the state, Boulder Sheriff Joe Pelle has enacted a fire ban for the central mountain corridor portion of unincorporated Boulder County.
The ban area includes all unincorporated Boulder County areas bordered by Colo. 93 and U.S. 36 to the east and Colo. 72 to the west between Coal Creek Canyon Drive to the south and South St. Vrain Drive to the north.
Boulder County Sheriff's Office Cmdr. Rick Brough said the recent stretch of hot weather along with several major fires across the state prompted the ban.
"The main thing is the temperature and weather conditions, and we're seeing fires burning in the state right now so we're starting to see a lack of resources so you have to take that into consideration too," Brough said.
Boulder has seen extreme heat this week, with temperatures climbing as high as 98 degrees Tuesday. Today's forecast calls for mostly sunny skies with a high of 91, and with only a 10 percent chance of rain the rest of the week, it could be a while before any relief.
Brough said while Boulder saw a lot of moisture in April and early May, that moisture may have actually increased the fire danger.
"The thing with wet conditions early in the spring, you get all the growth of the grasses, but then the weather gets hot and dry and all that becomes fuel that feeds a fire," Brough said. "It's one of those things that is good initially but is bad when it dries out."
The ban prohibits all outdoor burning, fireworks, model rockets, slash fires and any other outdoor activities that produce sparks or flames.
The ban does allow for campfires in public campgrounds and charcoal or gas grill use.
For now Brough said there are no plans for extra patrols in the ban areas. The ban is in effect until the fire risk decreases.
"We evaluate that all the time," Brough said. "A lot is going to depend on the weather conditions." ___
BEFORE YOU GO
PHOTO GALLERY
Colorado Wildfires 2013