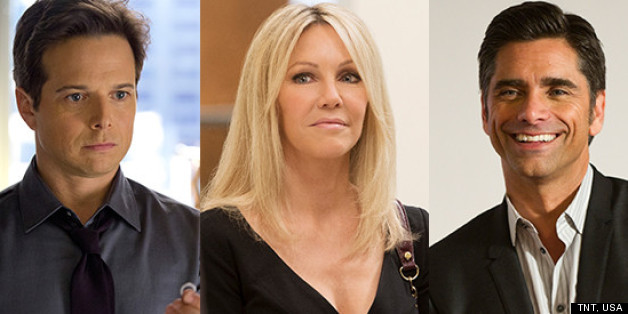 There's a trend on TV this summer, and it's not surrounding disturbing reality shows: Several '90s TV stars are stepping into established summer series to liven things up a bit, and we could not be more excited.
John Stamos is no stranger to TV -- he most recently guest-starred on NBC's now-defunct "The New Normal" and Fox's "Glee" after starring on "ER" for several seasons -- but he'll always be Uncle Jesse to us. Now, the "Full House" alum has joined the cast of USA's "Necessary Roughness" (Season 3 premieres Wed., June 12 at 10 p.m. ET) as Dr. Dani's (Callie Thorne) new boss, the bluetooth earpiece-wearing Connor McClane. McClane runs a huge sports and entertainment management company, and his goal is to keep Dani in her place after she was fired by the New York Hawks.
The queen of show-saving is at it again! Heather Locklear has joined the cast of TNT's "Franklin & Bash" (two-hour Season 3 premiere airs Wed., June 19 at 9 p.m. ET) as Rachel King, a new partner at the firm who isn't too charmed by F&B's antics.
In the past decade, Scott Wolf has played everything from a small-town doctor ("Everwood") to a shifty TV news reporter covering an alien invasion ("V"). But thanks to one iconic role and his truly ageless appearance, he'll forever be "Party of Five's" Bailey Salinger to us. This summer, he's joining the show of another guy who can't seem to shake the role that defined him: Eric McCormack (a.k.a. Will Truman). The "Will & Grace" alum stars as Dr. Daniel Pierce on TNT's "Perception" (Season 2 premieres Tues., June 25 at 10 p.m. ET), and Wolf will be on this season, playing the soon-to-be ex-husband of Pierce's partner-in-crimesolving, FBI agent Kate Moretti (Rachel Leigh Cook).
Tell us: What other '90s TV stars would you like to see back on TV? And which shows could use a little dose of a series-saving guest star?
PHOTO GALLERY
Summer TV Guide
BEFORE YOU GO