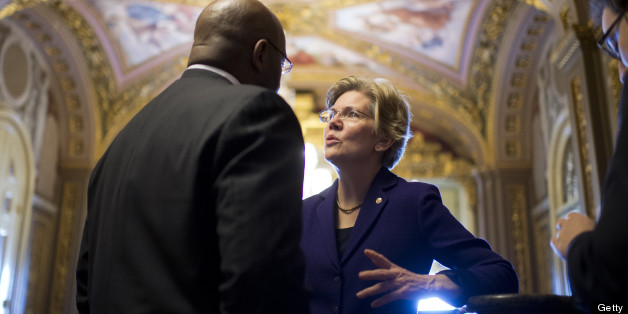 Senators representing Massachusetts and Illinois wagered home-state staples on Wednesday on the Stanley Cup Finals.
Sens. Dick Durbin (D-Ill.), Elizabeth Warren (D-Mass.), Mark Kirk (R-Ill.) and William "Mo" Cowan (D-Mass.) announced their bets on the National Hockey League's Stanley Cup Finals series between the Chicago Blackhawks and the Boston Bruins in a Wednesday statement.
Goodies wagered by Durbin and Kirk include 312 beer from Goose Island Brewery and Chicago's famous Eli's Cheesecake. Warren and Cowan offered Massachusetts staples, including Sam Adams beer and Legal Seafood's chowder.
"The Bruins team has shown extraordinary grit and resolve throughout the season," Warren said in a press release. "I have faith they will show Boston's strength on the ice in the Stanley Cup Finals and they will bring home the Cup to Boston. When Senator Durbin from Illinois asked me what we should wager, I said he should put up whatever he was ready to lose."
"I am confident that our Bruins will continue to make us proud and return the Stanley Cup to Boston in just a few short weeks," Cowan added. "We are looking forward to seeing the incredible persistence and cohesion of the Bruins team, along with their remarkable talent, on full display tonight in Chicago and throughout the series."
Illinois Sens. Durbin and Kirk held true to their faith in the Blackhawks.
"From the first notes of the Star-Spangled Banner to the final horn, I know Blackhawks fans will make the 'Madhouse on Madison' live up to its name," Durbin said.
"The Blackhawks have won more games than any other team in the NHL this season, and I am confident they will notch four more victories in the final series to reclaim the Stanley Cup," added Kirk.
The best-of-seven Stanley Cup Finals begin Wednesday in Chicago.
BEFORE YOU GO
PHOTO GALLERY
Obama With Celebrities