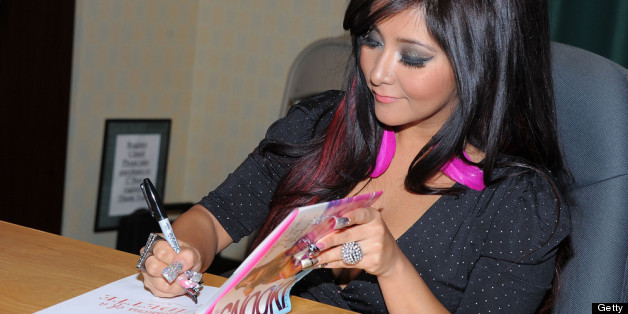 Snooki has a style and philosophy all her own and that extends into motherhood. She may often get the pop culture raspberries, but she is a mom now, and that does give her some level of expertise on being a parent. And judging from her Celebaby Report on MTV.com, she is happy to advise.
Her baby tips have been directed at everyone from Kim Kardashian to Wiz Khalifa and Amber Rose and most recently to rookie parents Channing Tatum and his wife Jenna.
Here's just a quick list of the Snookier bits of guidance:
Don't crush your baby with your huge hands. Your baby's head is soft and squishy and "basically a bobblehead" so hold them with care.
If the baby cries, she's probably just hungry, or needs to "take a ****."
Keep your wife happy by not having sex with her. She just had a person come out of her, and her vagina needs time to heal.
Make sure you choose your makeup palettes wisely when entering the hospital to give birth. Hospital rooms are bland and boring. "Stay away from nudes," she insists.
Bring your own hospital gown because the gowns at the hospital are ugly.
Avoid big hoop earings, as they may get caught on things, but diamond studs are nice and will help you look good in your selfies.
Make sure your mascara is waterproof because you're going to cry from the pain of a baby coming out of your vagina. While in labor, you'll probably fart in the doctor's face, but at least you'll look good doing it.
Do not drink your own breast milk, ladies, but guys, you can drink as much as you want. It'll make you hotter.
Go slow on your first night of drinking because you haven't drank in 9 months and it's going to hit you.
Well, it's not Dr. Spock, but you have to admit, her advice has some real world applications. For someone. Somewhere. Right?
BEFORE YOU GO
PHOTO GALLERY
Snooki's Pregnancy