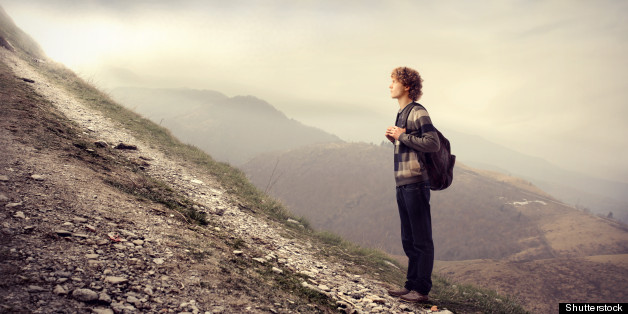 By Alex Gladu
Does it seem like all your friends have big college plans except for you? Are you unsure about what you want to do after high school? Maybe you know what you want to do, but it doesn't necessarily involve college right away. Well, you're not alone!
Delaying college enrollment has become an increasingly popular option for high school graduates across the country – whether it's taking a gap year to travel or work, or just taking a little time off to explore your interests and find your passion. While it may frighten you or your parents at first, opting to take time off before college can be a rewarding decision if it helps you figure out what you want to do with your future, takes you on a once-in-a-lifetime adventure, and even saves you money!
Finding Your Footing
Taylor Korth grew up in a small town in Kansas. By the end of high school, she – like many students – had no idea what she wanted to do with her future.
"I graduated high school in 2011 and was the first one in my family to go to college," she says. "My friends all had a plan of where they wanted to go and what they wanted to do, but I unfortunately was not as prepared as they were."
She describes her journey as the "lost and confused approach" because she had no idea what to do after high school. "My family never talked about college with me so I never looked for scholarships or what majors I might be interested in, let alone where I was going to go," she says. "It was a panic when I graduated because everyone was leaving town and I still had no idea what I was going to do."
Rather than waste time or money on something she wasn't sure about, Taylor decided to put off college for a bit to give herself time to figure it all out. "Right out of high school, I took the first semester off to work and actually become interested in going to school again," she says.
After a semester off, she tried the community college route. "There is a community college about 40 minutes away from me called Johnson County Community College," she says. "I knew it was cheap, and since I didn't know what I wanted to do, I knew I could go there and get my general education requirements over with and maybe come up with a plan."
After two semesters in community college, Taylor made another bold move. "I tried one more semester but hated everything about it, so I took this semester off to really focus on what is important to me," she says.
Despite taking a nontraditional route to college, Taylor's semesters off turned into worthwhile experiences because she was able to figure out her future plans and save money. "I was embarrassed in the beginning to tell people I took a semester off," she says. "But, now I haven't wasted money, and I have really gotten things together." Taylor is now back on track with a major in mind and transfer applications to four-year colleges in the works.
If you identify with Taylor's confusion about post-high school plans, you're not alone! There are plenty of ways to sort out your future plans, including taking a break from school. If your family and friends aren't exactly helpful, try consulting a guidance counselor at your school for help with the college search and application process. You can also browse and compare colleges online with sites like The College Board.
If you don't know what major or career field interests you, ask your counselor about opportunities to sit in on classes at a local college or university. Also, stay on the lookout for career fairs at your high school or local college where you can browse all kinds of careers and network! An internship or participating in community service work can also help determine your career path.
Like Taylor, Addison Voelz of Columbus, Indiana, felt lost by the time her high school graduation rolled around. She had planned to follow the crowd to nearby Indiana University, but after careful thought she decided to take some time off and find a path better suited to her passion for fashion.
"Everyone from my high school goes to Indiana University after high school," she says. "That was sort of the expected thing for me to do – my parents and friends wanted me to go there because it's close to home and all my friends could continue going to school together."
So during her senior year of high school, Addison did indeed apply to and enroll in Indiana University… but something didn't feel quite right to her.
"I was so lost in what exactly I wanted to major in, and I was wondering if IU was really the right school for me," she says. "I had a part of me that wanted to go away and meet new people and see new things."
Despite her parents' best efforts to convince her that IU was perfect for her, Addison knew it wouldn't give her the adventure and freedom she desired. "My aha moment was when I applied for a random roommate for the dorms, and out of the 15,000 undergrads, I was matched with a girl from my high school that I was friends with," she says. "That moment, plus a horrible orientation, and I just knew IU was not the school for me."
Rather than spending time and money on a school she didn't love, Addison decided to take a year off to work and take classes at a local community college while she figured out what to do next. As it turns out, that plan didn't happen either because a few weeks later she found herself in New York City, touring the Fashion Institute of Technology and, ultimately, finding her new home.
"[Fashion school] was the perfect combination of my love for fashion and my thoughts of going to business school," she says. "I knew I wanted to do fashion, and I knew Indiana was not the place for that."
BEFORE YOU GO
PHOTO GALLERY
20 Things Not To Worry About Before You Turn 20