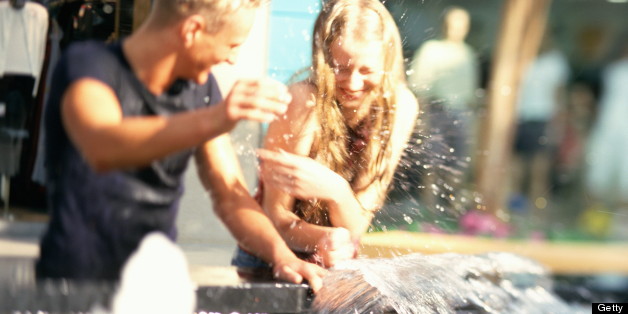 By Allie Churchill for YourTango.com
Summer is by far the sexiest season of the year. The days are longer, the sun is out and shining, temperatures are rising and things are getting steamy in your relationship.
You love walking in the tide at the beach and taking in a ball game, but those daytime date ideas are so last summer.
Fall back in love with your significant other this summer with one of these exciting day dates you'll never forget, from zip lining to jumping in fountains.
Pick Seasonal Berries (To Nibble On Later)
Strawberries, blueberries, raspberries and blackberries are all in season this time of year. So head out to the country for a day and spend the afternoon picking (and sneakily snacking on) berries on a farm. You can stir them in a cool pitcher of sangria, bake them in a homemade blueberry pie or dip them in a chocolate fondue for two later.
Swing Through The Trees On A Zip Lining Adventure
What gets your heart pounding, your palms sweaty and your pulse racing? No, not that.
Going on an outdoor adventure like zip lining can be just the thing to shake things up in your relationship. Just imagine being suspended hundreds of feet above the trees, looking over a sky-high view and hurtling at up to 85 miles per hour. Talk about an adrenaline rush!
See An Outdoor Play
If all the world's a stage, play the part of Romeo and Juliet and take notes from the master of romance himself: William Shakespeare. Take in any one of his classic comedies from "Much Ado About Nothing" to "The Comedy Of Errors" or "The Taming Of The Shrew."
The English playwright was known for his lovesick characters, slapstick comedy and witty wordplay. He was a total romantic at heart. Many of his plays are showcased outdoors this time of year. Check out which theatrical groups are putting on shows in your area.
Mix Glasses Of Adult Lemonade
During the dog days of our childhood summers, there was nothing more refreshing than a tall glass of citrusy, freshly-squeezed lemonade. But now that we're adults, this kiddie drink needs a little kick.
Raid your cabinets to spruce up your homemade lemonade. Then you can just kick back, relax and quench your thirst.
Jump In Fountains
Remember when you were a kid and you loved running through the sprinkler on a scorching summer day? Relive your childhood summers together by splashing around in a public fountain. Dance, play and just lounge in the cool water. Pretend it's your own private oasis.
Have A Sexy Staycation
Sure, you could jet off to Aruba for a weekend or book a stay at a private resort on a private island ... if you're royalty.
For the rest of us non-celebrity couples, elaborate day trips don't always fit into our budgets. Instead, take a sunny day off from work for a sexy at-home vaca. Pull out your beach chairs, lounge out in the backyard, sip on fruity drinks, don your resort best and give each other rubdowns with tanning oils and lotions. A sensual massage can then turn into something a little more...
More Stories On YourTango:
25 Date Night Ideas That Aren't Cheesy
The Ultimate Guide To Getting Lucky At A Wedding
10 Biggest Wedding Day Mistakes Brides Make
10 Celebrity Sex Tape Scandals You May Have Missed
Keep in touch! Check out HuffPost Weddings on Facebook, Twitter and Pinterest.