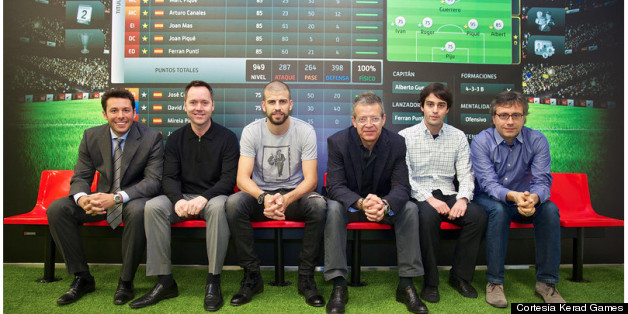 It's Fantasy Fútbol time.
Or at least something quite like it is what Barcelona defender Gerard Piqué is undertaking in his first venture as an entrepreneur. In an exclusive interview with HuffPost Voces, the 26-year-old soccer player revealed he has founded a video game developing company, Kerad Games, that already launched a Beta version of an interactive soccer team managing game, Golden Manager.
"You can connect through goldenmanager.com, and what you do is run your team as the manager, coach and president," Piqué told The Huffington Post. "From there you can pick your players and handle the team's economic issues, sponsors...and [also] how to get your league in the best position."
Kerard Games is based in the soccer star's native Barcelona and was created with the help of friends and family. The interactive online game will use social media as a platform and allow users to work with their teams in real time.
"As a child there was a game called 'PC fútbol' in Spain, it was the same thing," the Barça star explained to HuffPost. "The big difference is that now thanks to Facebook and other social networks, rather than playing against a machine you can play against your friends, and that's how the idea was born."
Check out pictures of Piqué and Kerad Games below and let us know what you think of the soccer star's latest venture in the comments.

PHOTO GALLERY
Gerard Piqué & Kerard Games