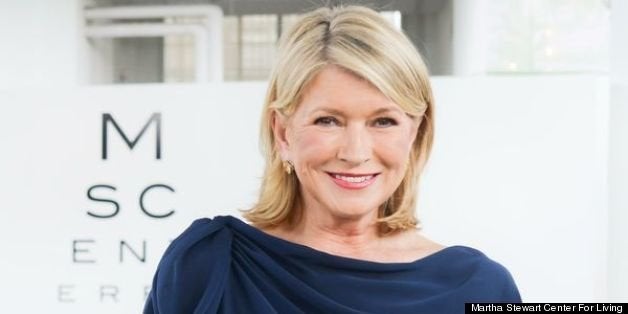 At 71, Martha Stewart is still going strong -- the goddess of all things home-made, home-cooked and home-decorated just came out with her latest book, "Living the Good Long Life: A Practical Guide to Caring for Yourself and Others," (Clarkson Potter; $27.50) in May, and this week she hosted her fifth annual Martha Stewart Center For Living at The Mount Sinai Medical Center gala, honoring actress Marlo Thomas. HuffPost had the opportunity to sit down with the legend herself to talk stress, aging gracefully, and her secrets to living a fulfilling, long life.
On aging gracefully:
Be curious. Don't retire. Keep very active. Never stop working at something. I think people age really quickly the minute they stop doing things they really are interested in.
On the health lesson she learned from her mother:
Be nimble. She was extremely nimble and flexible. At 93, she could touch the floor with her palms, with her legs straight, and I always admired that. And she did not do daily yoga, but she was very flexible. And I got my flexibility from her. That was very important.
On her love of yoga:
I will try to work out every day, of some sort. I did a lot of yoga this morning. This week, I'll exercise five days, because I have to travel, and it's a little bit harder when traveling. I work out a lot … James Murphy has been my teacher for a long time, and he is an amazing teacher -- his whole gang at the Iyengar Institute are amazing. And when I don't do it for a period of time I really miss it.
On her top tips for staying healthy:
It's good eating. It's good exercise. It's a good job or good "thing" that you do every day, and it's staying curious. No repetition. Repetition is deadly. That's why I don't play golf -- I can't stand the thought of walking around the same golf course every day!
On how she de-stresses:
I'm not good at de-stressing! But there are some things I do that sort of distract me from business, distract me from other cares. That's horseback riding, because you have to pay attention to what you're doing when you're on the back of a horse … I like to get on the controls of an airplane and fly a little bit, although I haven't done that for a while. It's fun, because you can't think of anything else -- you really don't want to … I like to climb [trails near] my house. That kind of hiking, you think of the next rung you have to grab onto so you don't fall off the mountain.
BEFORE YOU GO
PHOTO GALLERY
Top 50 Health Books Chosen by Healthy Living Community