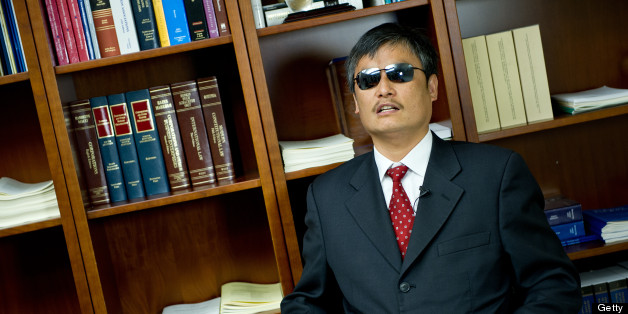 A bombshell report in the New York Post on Thursday alleged that New York University has booted a prominent Chinese legal activist so the school can do business with the Chinese.
The report, quoting anonymous sources, says that New York University (NYU) told blind Chinese dissident Chen Guangcheng to leave the institution after being pressured by Chinese officials, who are none too fond of Chen's work fighting on behalf of victims of the communist nation's draconian one child policy.
Update NYU Law professor Jerome Cohen, who helped broker the deal to bring Chen to the U.S. in 2012 after Chen's escape, said in an interview with PBS that aired May 4, 2012 that "the idea [was] to have Chen come for up to a year," after which, Cohen said, Chen would be "more comfortable with himself" and "more adjusted to freedom."
Previously reported:
But the university denies the allegations, calling them "fanciful and false."
In a statement to The Huffington Post, NYU spokesman John Beckman said that "in the countless hours of conversations involving the establishment of our Shanghai campus, this matter has never come up."
The statement confirmed that Chen is leaving, however.
"NYU and Mr. Chen had discussions beginning last fall that NYU could not support him indefinitely," the statement said. "We indicated that beyond this academic year he would need to make a transition to a more self-supporting life –- with which NYU would and has been helping him -– which would involve him finding new living arrangements and completing a book that would be a source of income for his family."
The message also said claims that Chen's advocacy was restrained by NYU are "also completely untrue, as the record amply shows." (Beckman included examples of work NYU has done on behalf of Chen.)
In the statement, NYU law professor Jerome Cohen, who helped negotiate Chen's move from China to NYU, said his understanding was that Chen would be given one year at NYU to get his "feet on the ground" and "transfer to a more permanent position."
"I have always made clear, and the University authorities agreed, that our US-Asia Law Institute would allow him to stay beyond one year until a better, more permanent, opportunity arose," Cohen said. But, he added, the university's generosity "could not be reasonably expected to go on indefinitely."
Cohen also said he had not "heard a word from anyone, including Chinese diplomats" about the Chinese government pressuring the university to get rid of Chen.
Chen arrived at NYU in May 2012 to study disability law, according to the New York Review Of Books. He hoped to use his American education to improve disability law in China.
He came to New York following a dramatic, high-profile diplomatic negotiation between the United States and China after he escaped from his home -- where he was under house arrest -- to the U.S. embassy in Beijing.
Chen had been jailed from 2006-2010 for organizing a class action lawsuit on behalf of victims in eastern China who had allegedly been forced to have abortions and undergo sterilization by Chinese family planning officials, CNN notes.
According to the Post, Chen was in discussions with Fordham Law about a possible transfer. Bob Howe, senior director of communications at Fordham, confirmed to HuffPost the school was in negotiations with Chen. However, that is the only "concrete detail" at this point, he said.
BEFORE YOU GO
PHOTO GALLERY
Chen Guangcheng