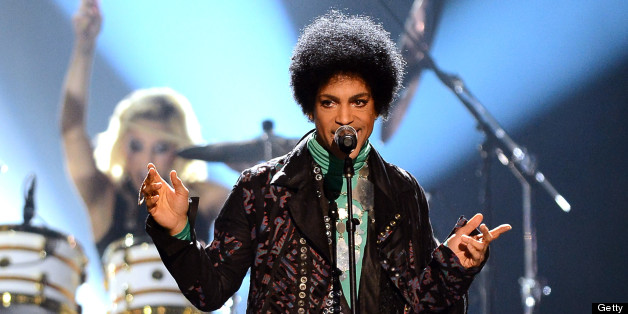 Prince debuted "Ain't Gonna Miss U When U're Gone" on his website, a six-minute tune that features singer/songwriter Ledisi.
The song is available for purchase on Prince's 3rd Eye Girl site, making it the latest in a string of tracks the Purple One has dropped online. Most recently, he released "FIXURLIFEUP" in May. The tracks are rumored to be on an album that's (also rumored) to be titled "Plectrum Electrum."
Prince also completed a slew of tour dates and performed an extended set at this year's South by Southwest Music Festival, where he kept the crowd up until 3 a.m.
Janelle Monae recently announced that Prince would be featured on her album. As NME notes, it's unclear what role he'll have on Monae's project, but her second disc, "The Electric Lady," will also feature Miguel and Erykah Badu. ""We are great friends, and he is a mentor to us, to me," Monae said of Prince. "It's a beautiful thing to have a friend - someone who cares about your career, and wants to see you go far and to push boundaries and shake up the world - give whatever they possibly can to the cause."
Upcoming Prince tour dates:
7/13 – Montreux, CH @ Montreux Jazz Festival
7/14 – Montreux, CH @ Montreux Jazz Festival
7/15 – Montreux, CH @ Montreux Jazz Festival
8/04 – Stockholm, SE @ Stockholm Music & Arts Festival
8/07 – Skanderborg, DK @ Smuckfest
BEFORE YOU GO
PHOTO GALLERY
Prince Album Covers