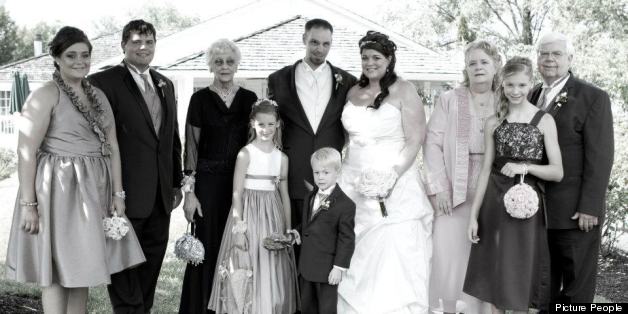 As part of our Blended Family Friday series, each week we're spotlighting a different stepfamily to learn how they successfully blended their two families together. Our hope is that by telling their stories, we'll bring you closer to blended family bliss in your own life!
This week, we're getting to know Katie and Kurt and their five kids, who range from age 6 to 23.
Hey, Katie! Please introduce us to your family.
Our blended family consists of five children between Kurt and me. We have three daughters, Meghan, 23; Cassandra, 13; and Meridith, 11 -- and two sons, Tyler, 20 and Samuel, 6.
How long have you and you and Kurt been together?
My husband and I have been together since our first date watching Sunday Night Football on November 25, 2007. We were married on July 25, 2011; it was the same date as our first date, just backwards -- corny, I know, but we thought it was the perfect date to begin our journey as a blended family.

What has been the best thing about being part of a blended family over the last six years?
We were challenged with the age differences between our children, but when they are together they are respectful to each other -- you wouldn't even know they were step-siblings. We do our best to show the children the importance of family and how they are so lucky to have an extended family with not only their biological parents, but also their stepparents. When I was growing up, we didn't see much of our extended family, so both my husband and I encourage our children to stay in contact with their immediate and extended families.
What have been some of the biggest challenges of blended family life?
One of the biggest challenges we've dealt with as a blended family has been coping when the other parent -- our exes -- is unable to accept the newly blended family or when they can't see that they need to share the children with our family. If this happens in your blended family, you need to be respectful toward the other parent's feelings (they do have the children on a day-to-day basis!) while maintaining boundaries when the kids are in your home. At the end of the day, the parents and stepparents all have the same goal: to love and care for the children. You just have to realize that each parent does it in their own way and that makes the relationship they have with the kids unique.
What makes you proudest of your family?
Bringing our two families together. Family is the most important thing in the world to my husband and me and we feel like we were blessed when we married and added to our family.
What advice do you have for other blended families who feel like a peaceful family dynamic is out of reach?
Do your best to be respectful to the other parent and always keep your word or promises to the kids. They're struggling with the loss of their family and they need to build trust with you as their stepparent. Keep the communication with the other parent related to the children and respond with no emotion -- be clear, concise and to the point. Misunderstandings happen. Be strong, have faith and cherish the memories and moments when you see your kids and your spouse smiling. In my experience, it's when you hear your family laughing or saying those three little words -- "I love you" -- that your heart melts and you realize just how lucky you are to be blessed with your blended family.
Click through the slideshow below the see photos of Katie and Kurt's family.
If you'd like your own family to be featured on a Blended Family Friday, please email us at divorce@huffingtonpost.com. We're looking forward to hearing your story!
PHOTO GALLERY
Meet Kurt And Katie's Family
Keep in touch! Check out HuffPost Divorce on Facebook and Twitter.