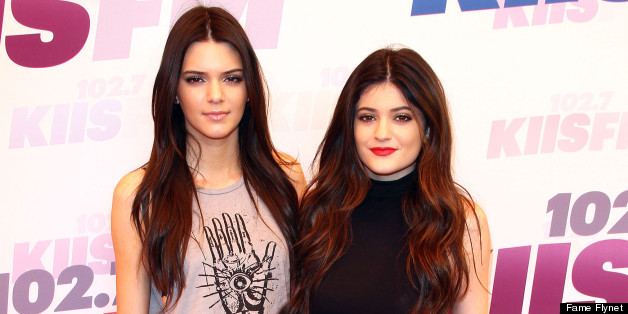 Bruce Jenner has some sage advice for his youngest children, daughters Kendall and Kylie (and, no, it doesn't involve shutting down their Instagram accounts).
To celebrate Father's Day, Time magazine teamed up with Lean In, Sheryl Sandberg's women's initiative, to ask famous dads to share advice they have for their daughters. The 63-year-old former Olympian took part and wrote his letter to Kendall and Kylie.
In the letter, Bruce tells each girl to "be true to yourself, be your own person—and be caring to others, as well." He advises each to develop her own passion in life and to use his relationship with wife Kris, whom he married in 1991, as inspiration for dating.
"Another key to life is picking the right partner to share it with," he wrote. "I certainly have learned that is really difficult to find, because people change. Your mom and I have been together for 23 years, and our relationship has constantly changed and evolved ... Go out and find that person who makes you a better person, and vice versa."
Click over to Time magazine to read Bruce Jenner's full letter.
"I'm so proud of the two of you. I see you both have a caring and enthusiasm for life," he concluded. "But in the future, you will face obstacles. Don't let them scare you. Fear is part of the game. Trying things outside of your comfort zone is essential, because your ability to grow as a person is directly related to the amount of insecurity you can handle. So be strong and fearless on this journey we call life."
Kris has said that Bruce got a second chance at fatherhood when they got married. He has four other kids from previous relationships and wasn't necessarily the best dad to those children. In a recent episode of "Keeping Up With the Kardashians," his son Brody confronted him about being an absentee dad. Bruce admitted that not being a good father is "the biggest regret of his life."
Last Father's Day, Bruce's stepdaughters, Kim, Kourtney and Khloe, thanked him for always being there for them after the death of their own father.
Around that same time, he told Esquire he has learned over the course of time that "there may be no greater love a father can give his children than to accept that his life really didn't begin until theirs did."
BEFORE YOU GO
PHOTO GALLERY
Kendall and Kylie Jenner