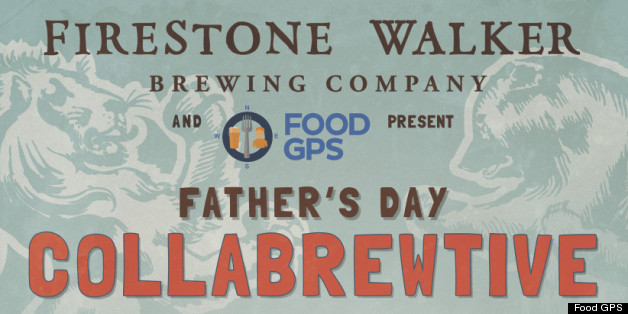 For naughty sons and daughters still slacking on Father's Day gifts, here's a fun spin on the usual brunch that involves day drinking, lots of coffee and six of LA's hottest restaurants.
The Collabrewtive Brunch, sponsored by Food GPS and Firestone Walker Brewing Company, pairs six local breweries with six luxury coffee spots in LA to create special coffee beers. What makes this brunch a trifecta is the fact that six of LA's best restaurants are handling the eats: Bestia, Littlefork, Cooks County, Sotto, Rivera and Huckleberry/Milo & Olive.
To help honor their dear old dads, chefs cooking at Sunday's event talked to HuffPost LA about their favorite memories of their fathers in the kitchen or around the dinner table. Click through the slideshow below to see which chef learned how to take out flare-ups with a squirt gun, or which chef grew up blasting the Beatles in the kitchen.
This little piece of advice, from the chef father of Littlefork chef Jason Travi, is our favorite: Don't start drinking until the last table is finished.
Check out participating chefs' favorite memories of their father in the kitchen and then keep scrolling for more information on the event.
PHOTO GALLERY
LA Chefs Share Favorite Dad Memories
Here's everything you need to know about the event.
WHAT: Father's Day 'Collabrewtive' Brunch
WHEN: Sunday, June 17 (11:30 a.m. - 2:30 p.m.)
WHERE: Lot 613. 613 Imperial Street, Los Angeles CA 90021
COST: Tickets are $50 and all-inclusive. Tickets at the door cost $60, and children 12-years-old and younger get in for half price. A portion of the proceeds will benefit Share Our Strength, which battles childhood hunger.
MENU:
Ranch Eggs: Huevos, Chiles, Tomatilos and Tortillas by John Sedlar of Rivera
Spiced Ricotta Fritters with Stonefruit, Bitter Honey and Salsiccia Mattinale by Steve Samson & Zach Pollack of Sotto
Buttermilk Biscuit Breakfast Sandwiches by Daniel Mattern & Roxana Jullapat of Cooks County
Maple Yogurt with Roasted Peach and Crispy Freekeh by Jason Travi of Littlefork
Savory Kouign Amman Turnovers, Maple Bacon Biscuits with Maple Butter & Valrhona Chocolate Cupcakes by Zoe Nathan of Huckleberry and Milo & Olive
Ice Cream Sandwiches by Genevieve Gergis & Ori Menashe of Bestia
COFFEE BEERS
Firestone Walker Brewing Co. + Intelligentsia Coffee
Golden Road Brewing + Handsome Coffee Roasters
Eagle Rock Brewery + Tierra Mia Coffee
Beachwood BBQ & Brewing + Portola Coffee Lab
Cismontane Brewing Company + Caffe Luxxe
Ladyface Ale Companie + LAMILL Coffee