Lanny Martinson, a U.S. Marine Corps platoon sergeant who served in Vietnam, lost his right leg in June 1968 when his troops came upon a minefield in Khe Sanh.
He also lost his dog tags.
Forty five years later, the Lake County News-Chronicle reports that
Martinson will be getting one of those two tags back -- thanks to the man who found it, several other Marines, military veterans, and the power of Facebook.
In early June, Martinson -- now living in Sugar Land, Tex., -- went to apply for duplicate tags online. Soon after, he received a phone call that John Naesmith from Australia had found his dog tag two years ago, according to U-T San Diego.
Naesmith, who travels to Vietnam to teach English, had tried to find Martinson's contact information but with no luck. He gave the tag to a friend living in California.
Eventually, on June 5, a picture of the tag ended up on a Vietnam vets Facebook *USMC* page.
(Story Continues Below)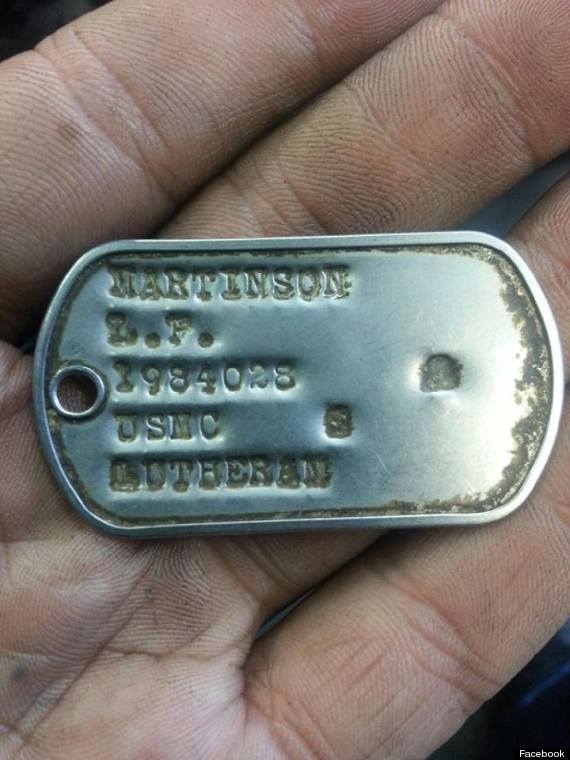 "Maybe someone out there can help me locate the owner of this USMC Vietnam Veterans dog tag," a caption to the picture said. "L.P. Martinson. His name is NOT on the 'Wall' so that means he made it out of Vietnam."
Days later, someone who'd seen the post found Martinson's contact information and called him, according to U-T San Diego. Steps are now being taken to get the tag back to its owner.
Martinson wrote to the News-Chronicle that he is honored and humbled by the effort to find him.
"I want to share all this attention I am getting with all the Veterans of Vietnam and all those that are now serving their country as we once did," he wrote. "I didn't do anything to deserve to be singled out, it just happened. I hope that all this will enable me to help all of you in some way."
H/T msnNOW
BEFORE YOU GO
PHOTO GALLERY
People Receive The Best News Ever