 "Military aid to the Syrian rebels bucks public opinion. Frank Newport reminds us that opinions on complex policy issues are rarely fixed or 'ironclad.' And if you know a dad who prefers polling data to power tools, you've come to the right place. This is the HuffPost Pollster update for Friday, June 14, 2013.
PRIOR POLLS SHOW OPPOSITION TO MILITARY INTERVENTION IN SYRIA - Polling conducted in recent months suggests that President Barack Obama is bucking public opinion in opting to authorize military aid to the Syrian rebels. Polls have typically shown that as many as two thirds of Americans oppose military action in Syria, even when questions that specify the aid come in the form of "weapons" rather than more direct military intervention. [Polls by CBS/NYT, Gallup, NBC/WSJ, Fox News & HuffPost/YouGov]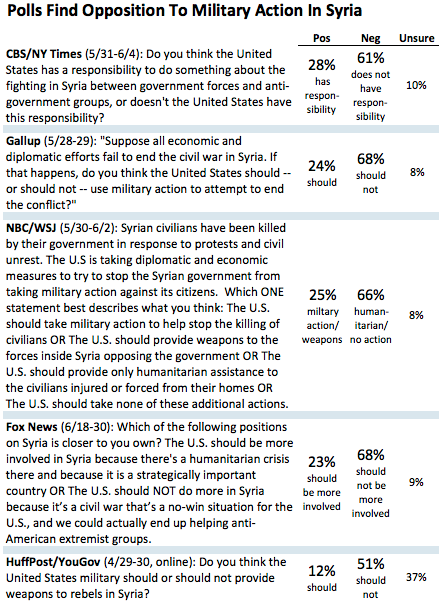 Chemical weapons mention draws more support, but also skepticism - Support for intervention rises when poll questions raise the possibility of chemical weapons use. For example, an April Pew Research survey found plurality support (45 to 31 percent) for military action, "if it is confirmed that the Syrian government has used chemical weapons against anti-government groups." Similarly, a May CNN/ORC survey found 68 percent of Americans thought military action justified "if the United States were able to present evidence that convinced you that the Syrian government has chemical weapons and has used them to kill civilians in that country." However, only 16 percent on the same survey felt "certain" that chemical weapons had in fact been used (another 67 percent thought it "likely but not certain"). A HuffPost/YouGov survey in April find that while 40 percent believed the Syrian government had used chemical weapons and only 6 percent had not, a majority (54 percent) were uncertain. [Pew Research, CNN, HuffPost]
Why Americans resist involvement - Paul Donaldson, senior project director for the Republican polling firm Public Opinion Strategies, blogs an explanation for why Americans have been reluctant to support military action in Syria: "The hesitation for U.S. involvement in Syria closely matches twenty-five years of past data showing the reluctance Americans have about intervening between two conflicting factions within a foreign country, especially when there is no perceived threat to U.S. national security. Looking at other civil-wars/foreign conflicts, we see similar opposition to sending in our military." Donaldson piece reviews poll data since the 1980s showing opposition to American involvement in the conflicts in Libya, Liberia, Kosovo, Rwanda, Iraq, Nicaragua and El Salvador, but initial support for involvement in conflicts in Afghanistan and Iraq. "As atrocious as the use of chemical weapons on Syrians is," Donaldson writes, "what drives Americans to support military action is the sense that our national defense is at risk." [POS]
GALLUP'S NEWPORT ON NSA POLL CONFLICTS - Gallup Poll editor-in-chief Frank Newport compares differences between their question on the NSA surveillance programs (showing 37 percent who "approved" of the NSA's activities) with a similar question asked on a Washington Post/Pew Research survey (showing 56 percent who judged the NSA activities to be "acceptable"). He reconciles the two by focusing on a conflicted middle group: "21% of Americans initially disapproved of the program in the Gallup survey, but in response to a follow-up question said that there could be circumstances in which it would be right for the government to created a database of telephone logs and Internet communications. That yields the aforementioned 58% who might find the activities acceptable, which is very close to the 56% in the Pew/Post survey who find the activities acceptable as 'a way for the federal government to investigate terrorism.'" Newport then makes a point that bears repeating: "The key in all of this is that people don't usually have fixed, ironclad attitudes toward many issues stored in some mental filing cabinet ready to be accessed by those who inquire. This is particularly true for something that they don't think a lot about, something new, and something that has ambiguities and strengths and weaknesses. That's why we find that random samples of the public [can] react differently to a concept, depending on how they are asked about it. Again, this is not a bad thing, nor should it cast negative aspersions on the American population. As is true with the analysis of relationships and differences between variables across all fields of science, it provides us better insights and understanding." [Gallup]
FRIDAY AFTERNOON FATHERS' DAY DATA DUMP - What would Father's Day be without data? Here's a summary of some new numbers released or featured this past week:
-"Being a father in this era of changing family structures and converging gender roles means more than bringing home a paycheck or delivering punishment to a misbehaving child...Americans expect dad to be more of a moral teacher and emotional comforter than a breadwinner or disciplinarian." [Pew Research]
-"A plurality of Americans believe kids derive too little support from fathers (45%). Still, an overwhelming majority (93%) also believe it's possible to be good fathers and have successful careers at the same time." [Fairleigh Dickenson University]
-"Fathers have nearly tripled the amount of time they spend with their children, from 2.5 hours in 1965 to 7.3 hours per week in 2011. [Pew Research]
-"Dads hope for quality time with family (dinner, grilling, outing) for Father's Day (40%), followed distantly by a gift card (13%) or a tech gadget/electronics (8%)." [Ipsos]
-"The DIY-enthusiast dad is more than an American cliché -- anyone stuck for a gift on Father's Day would do well with a toolkit or some power tools. US fathers rate home improvement stores Craftsman (#1), Lowe's (#4) and Home Depot (#12) among their top twenty best-rated brands." [YouGov]
-"One in two Americans think Father's Day is shortchanged compared to Mother's Day (51%)" [YouGov]
-In the U.K., "Dads are more likely to lie about their children's school grades and achievements than mums." [Parent Dish]
POLLSTER UPDATE VIA EMAIL! - You can receive this daily update every weekday via email! Just enter your email address in the box on the upper right corner of this page, and click "sign up." That's all there is to it (and you can unsubscribe anytime). The Pollster Updates will continue to publish online, but if you'd prefer the convenience of email, it's just one click away.
FRIDAY'S 'OUTLIERS' - Links to more news at the intersection of polling, politics and political data:
--76 percent of U.S. voters want Congress to pass an immigration reform bill this year, and 74 percent support the main provisions in the legislation being considered. [Fox News]
-Republicans like Paul Ryan more than other potential 2016 nominees. [Gallup]
-Public Policy Polling (D) finds 71 percent of U.S. voters favor background checks for all gun sales. [PPP]
-Scott Rasmussen says distrust of government is the theme driving all recent controversies in Washington. [Rasmussen Reports]
-Harry Enten believes the NSA issue will give Republicans an "in" with younger voters. [Guardian]
-John Sides is skeptical that political parties can "rebrand." [Monkey Cage]
-Chris Cillizza recalls the "best congressional approval chart. ever." [WaPost]
-Ellen DeGeneres is the most visible gay or lesbian public figure in America. [Pew Research]
-Andrew Sullivan worries that bisexuals, at 40 percent of the Pew Research LGBT sample, "skew the data dramatically." [AndrewSullivan.com]
-Just 40 percent of Iranians think religious figures should play a large role in politics. [Pew Forum]
-IPOS (not Ipsos) tracked the Iranian election using dual samples of both landline and mobile telephones. [Ipsos]
-Political Analysis publishes an issue on big data in political science. [Oxford Journals]
--14 percent of Americans believe there is at least a small chance of a zombie apocalypse. [YouGov]
-Burr Settles uses a Twitter content analysis to plot the differences between a "geek" and a "nerd." [Slackprop via Flowing Data]
Have something to add to the Pollster Update? Send tips/quotes/stories/charts/new data/juicy miscellanea to Mark Blumenthal (mark@huffingtonpost.com) or Ariel Edwards-Levy (Ariel.Edwards-Levy@huffingtonpost.com).
CORRECTION:The original version of this article incorrectly identified Ipsos -- rather than IPOS --as the company fielding tracking surveys in Iran.