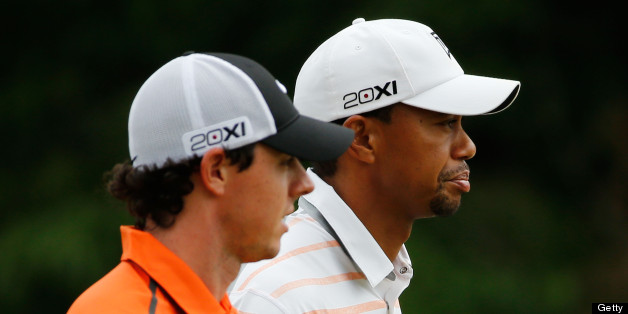 The sky has cleared and the chase is on at the U.S. Open.
After a rain-soaked first two days at Merion Golf Club, Phil Mickelson and Billy Horschel held the lead after two rounds at 1-under. Horschel hit all 18 greens in regulation during his second round en route to the top of the leaderboard, according to Golfweek.
"I wasn't in the zone, I was just focused on what I tried to do," Horschel said of his impressive second round, via The Associated Press. "I didn't know I hit every green until I walked off 18. It's a cool thing."
CLICK HERE to see full leaderboard
Tiger Woods begins the third round tied for 13th at 3-over par. Aside from battling the course and the field, Woods is also playing with an elbow injury. Despite showing visible discomfort, Woods managed to shoot an even-par 70 on Friday. He tees off at 1:56 p.m. EST with Rory McIlroy and Gonzalo Fernandez-Castano while Mickelson and Horschel headline the final group at 2:40 p.m. EST.
CLICK HERE for all Round 3 pairings, tee times

Will the co-leaders hold on to their advantage? Will Tiger or Rory be able to close the gap? Or will another contender emerge to tame Merion?
STAY TUNED FOR LIVE UPDATES:
06/15/2013 8:23 PM EDT
Phil Mickelson is the only man under par (-1) through 54 holes. "This is a HARD challenge, but its a lot of fun." #usopen

— PGA TOUR (@PGATOUR) 5 years ago
06/15/2013 8:11 PM EDT
The 18th hole yielded NO birdies, but 10 double bogeys or worse today. Victims include Luke Donald, doubling to post 71. #usopen

— PGA TOUR (@PGATOUR) 5 years ago
06/15/2013 8:10 PM EDT
Phil On 18
Phil's second shot rolled onto the green but kept going and stopped on the rough. It was a tough placement and his third shot, a chip, didn't put him in a good position to save par. His putt was right on the line but stopped JUST short of the hole for a bogey. He's now -1 and atop the leaderboard by himself. He's the only man under par.
06/15/2013 7:53 PM EDT
It's been A Tale of Two Nines for Mickelson today. From the rough he struggled on the front. From the fairway on the back, he's scoring.

— David Dusek (@DavidDusek) 4 years ago
06/15/2013 7:44 PM EDT
Phil For Birdie On 17
Phil sinks a birdie from about 10 feet away to take the lead after Luke Donald bogeyd. Phil is alone atop the leaderboard. Crowd went wild.
06/15/2013 7:40 PM EDT
Phil played the break on 17 green perfectly with his tee shot, leaving his ball under the wicker stick for a great look at birdie.

— PGA TOUR (@PGATOUR) 5 years ago
06/15/2013 7:32 PM EDT
Interesting ... Tiger and Phil both have seven birdies so far (Phil 3 holes to go). Tiger 16 bogeys and Phil 6.

— Dave Shedloski (@DaveShedloski) 2 years ago
06/15/2013 7:29 PM EDT
So Close Again
Phil barely misses another birdie putt on the 16th hole and again, he cannot believe it. The ball rolled as close as it could to the hole but went past the hole to the right. He's stunned.
06/15/2013 7:20 PM EDT
Lead Change
Schwartzel and Mahan bogey and now Luke Donald is alone atop the leaderboard at -2. Phil, Justin Rose, Schwartzel and Mahan are at -1.
06/15/2013 7:15 PM EDT
Missed Birdie Putt
Phil barely missed a birdie putt on No. 15 and makes an easy par putt. It rolled to the right and left Phil saying, "Are you kidding me?"