WASHINGTON -- Washington National's superstar outfielder Bryce Harper can add another accomplishment to his very young career: shirtless man in an underwear ad.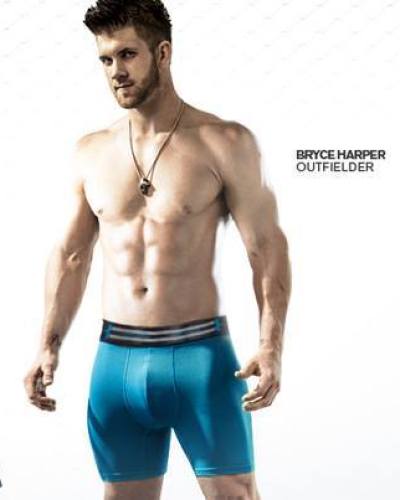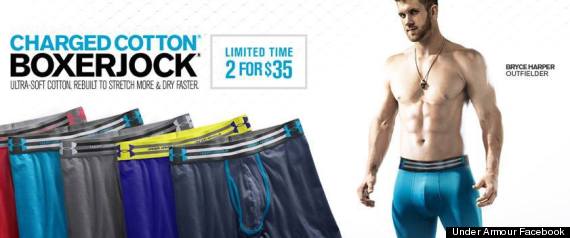 Under Armour's newest crop of underwear advertisements features a shirtless Haper in blue underwear. This is a very big departure from his May underwear advertisement. In that ad he was shirtless in grey underwear.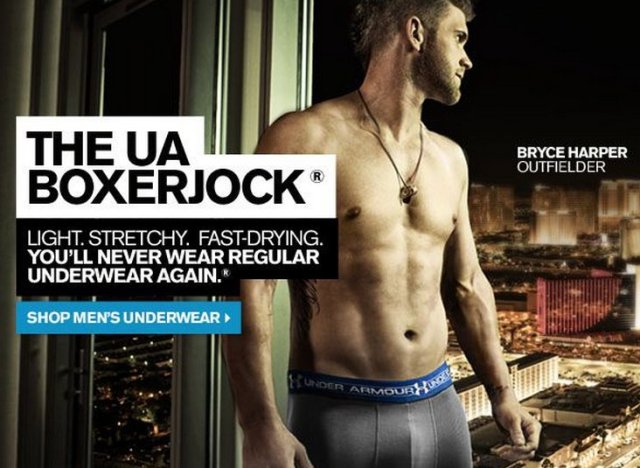 Harper is having an odd year, besides being a 20-year-old man photographed in his undergarments. After colliding with the right field wall in a game on May 13 against the Los Angeles Dodgers, his knee has been acting up. On May 26 he aggravated the knee injury and hasn't played since. Last week he received a cortisone injection into the bursa sac. His return date to the big leagues isn't set, but Nationals manager Davey Johnson said he will need to rehab in the minors.
Injury aside, Harper has other reasons to be happy. Before his stint on the disabled list, Haper was the Nationals' best player. His hustle helped make him a popular player in and outside D.C. He's currently leading the team in All-Star voting, third overall for all outfielders with 1,981,030 votes.
On Sunday, June 23 the Nationals will give away 15,000 Bryce Harper bobbleheads before a game against the Colorado Rockies.
If being almost-nude in advertisements seen around the globe, voted most popular and becoming a bobblehead isn't enough to make Harper feel better about his bum knee, maybe his free-Chipotle-for-life card will.
We just have one question: What color underwear should Harper be photographed wearing next?

BEFORE YOU GO
PHOTO GALLERY
Stars Accidentally Flash Their Underwear
PHOTO GALLERY
Washington Nationals 2013 Promotions And Giveaways