A pair of suburban firefighters are accused of attempting to rape a woman at a Chicago house party in the city's Mount Greenwood neighborhood on the far South Side Friday night.
Marvin Buhle, 24 and Michael Haas, 20, were each charged with attempted criminal sexual assault and criminal sexual assault stemming from the alleged incident, NBC Chicago reports.
Story continues below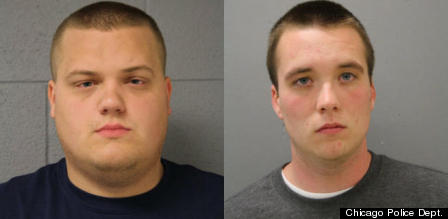 Merrionnette Park firefighter Marvin Buhle (left) is accused of trying to rape a woman who was passed out at a party while fellow firefighter Michael Haas (right) allegedly acted as a lookout. (Chicago Police Dept.)
Assistant State's Attorney Bridget O'Brien said the victim's boyfriend escorted her to an empty bedroom to rest after she became ill at a party in the 3900 block of West 109th Street in Chicago; he remained with her until she fell asleep, leaving the door ajar, DNAinfo Chicago reports.
After returning periodically to check on his girlfriend, the man went to the bedroom when he heard footsteps upstairs. There, the Sun-Times reports the victim's boyfriend saw the door closed with Haas standing guard; he opened the door to find Buhle with his pants down on top of the unconscious woman, whose pants had been removed.
The men tried to flee but were chased by other witnesses at the party; the two men, both Chicago residents, live nearby the home of the alleged assault. Police say the victim and her boyfriend were visiting from out of town. Buhle alleged he went into the bedroom because the victim had been flirting with him earlier in the evening.
In bond court Sunday, Buhle's bail was set at $250,000; Haas, meanwhile was held on $100,000 bond.
Officials from the Merrionette Park Fire Department have yet to comment on the charges.