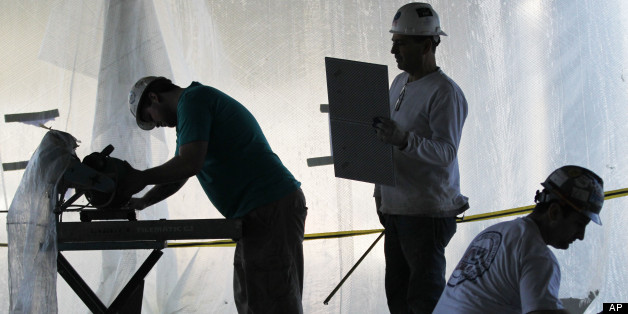 WASHINGTON -- Most workers who ran out of unemployment insurance in the Great Recession didn't start collecting disability benefits, according to new research by Jesse Rothstein at the University of California, Berkeley.
At the outset of the recession Congress started giving extra weeks of unemployment benefits to people who'd used up the standard 26 weeks provided by state governments. Since early last year the number of extra weeks available has gradually diminished in haphazard fashion across the states. Rothstein checked state data to see whether applications for federal disability insurance surged at the same time jobless benefits went away.
"I don't find any relationship at all," he said, adding that the notion unemployment recipients hop over to disability when they run out of benefits is "discredited" by his working paper, which was first reported by the Wall Street Journal.
Social Security's disability rolls have risen to 8.8 million from 7.1 million in 2007. Economists have worried that increases in disability recipients partly account for declines in the labor force participation rate.
HuffPost readers: Economy screwing you over? Tell us about it -- email arthur@huffingtonpost.com. Please include your phone number if you're willing to be interviewed.
The White House suggested in a December 2011 report that Congress ought to reauthorize long-term unemployment insurance because the benefits might keep people from seeking Social Security Disability Insurance.
"[A]pplications for SSDI by unemployed workers older than age 50 increase as these workers get close to exhausting their unemployment benefits," the report said. "By providing workers who might otherwise apply for SSDI more time to find a job, [extended unemployment benefits] apparently keep more of the long term unemployed actively in the labor force and thus increase the potential length of their productive work life."
Rothstein wondered if spending more money on unemployment insurance might actually be fiscally prudent. Since his data don't show people going from unemployment benefits to disability benefits, he says it's wrong to claim the unemployment benefits actually save the government money for that reason.
"You can't promise that they don't cost anything," he said.
BEFORE YOU GO
PHOTO GALLERY
People Improperly Getting Unemployment Benefits