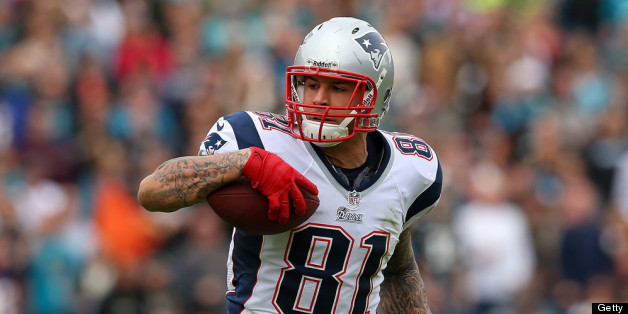 New England Patriots tight end Aaron Hernandez was questioned by police investigating a possible homicide in Massachusetts on Monday, according to Sports Illustrated.
Citing an unnamed source, Pete Thamel and Greg Bedard of SI reported on Tuesday that Hernandez "is not believed to be a murder suspect" but that a vehicle rented in his name could be a "key piece of evidence."
According to ABC News, police referred to the deceased as an "associate" of the Patriots' 27-year-old tight end. Citing unnamed law enforcement sources, ABC News reported that Hernandez has been "uncooperative with police."
The Sun Chronicle in Attleboro, Mass. confirmed on Tuesday that a police vehicle was parked outside Hernandez's home. The Sun Chronicle had previously reported that State and local police were investigating the possible homicide of a 27-year-old man from Boston. SI reported that the body was found near Hernandez' home.
Reporting from outside of Hernandez' home early on Tuesday evening, Bedard also confirmed the police presence. He tweeted that two men left the home with law enforcement.
Police have entered Hernandez's home pic.twitter.com/rbL7sLDSWz

— Greg A. Bedard (@GregABedard) June 18, 2013
Once Hernandez arrived home, police blocked the driveway with a car

— Greg A. Bedard (@GregABedard) June 18, 2013
Police have taken the 2 males into separate cruisers and have left the area

— Greg A. Bedard (@GregABedard) June 18, 2013
UPDATE 9:14 p.m. EST: Both ABC and Sports Illustrated reported that police searched the home of Hernandez on Tuesday evening.