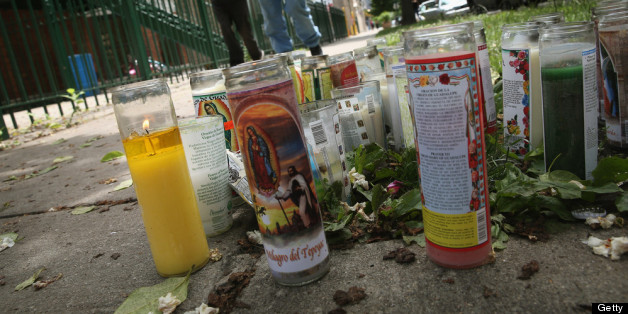 At least eight people were injured in shootings around Chicago on Monday, capping off a weekend that was the city's most violent of the year so far.
The weekday shootings on the city's South and West Sides started a little after 1 p.m. in Morgan Park when a 21-year-old man was shot in the 11000 block of South Ashland Avenue, the Tribune reports. Shootings from Longwood Manor on the South Side to Austin on the far West Side injured seven more throughout the day, abating just before 10 p.m.
Those injured were boys and men in their teens and early 20s; according to the Sun-Times, police had no word of arrests Monday night as area detectives began their investigations.
Also on Monday, two weekend shooting victims also died from their injuries, bringing the weekend's total death toll to ten.
Luis Santana, 21, of the 1900 block of West Ogden Avenue, and Alexander Lagunas, 18, of the 8100 block of South Scottsdale Avenue, died of gunshot wounds they suffered Sunday, DNAinfo Chicago reports according to the Cook County Medical Examiner's Office.
Despite the bloody weekend, Chicago police are saying the shooting and homicide rates in 2013 show progress, with overall crime said to be at the lowest levels since the '60s.
The city's top cop, Supt. Garry McCarthy said in an earlier statement following the weekend mayhem:
"While we've had fewer murders to date this year than any year since the mid-1960s, there's more work to be done and whether it's police, clergy, community organizations, parents or residents, we all have a role to play in continuing to reduce violence and no one will rest until everyone in Chicago enjoys the same sense of safety."
BEFORE YOU GO
PHOTO GALLERY
Crime In Chicago