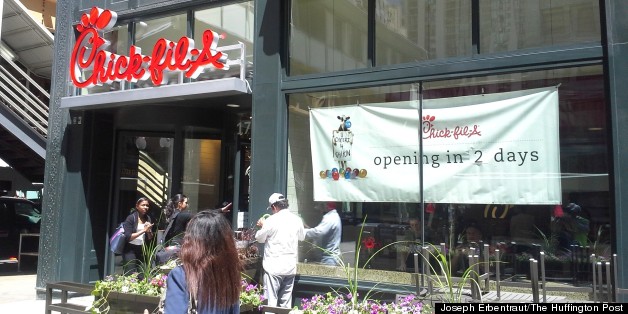 The second Chicago location of controversial chicken chain Chick-fil-A is set to open Thursday in the heart of the city's Loop.
Registration will begin at 6 p.m. Wednesday outside the 177 N. State St. store, located at the former site of Halsted Street Deli and Johnny Rockets at the corner of Lake and State, for folks lining up for a chance to win a coupon redeemable for one free chicken sandwich a week for one year, according to the Chicago Sun-Times. The first 100 customers in line as of Thursday morning will go home with the coupons.
The store's opening comes on the heels of the two-year anniversary of the opening of the chain's flagship Chicago location in the Loyola Water Tower on Chicago Avenue, wherein 1,000 guests reportedly lined up to take part in a free-sandwich hour.
The Atlanta-based chain had originally aimed to open its second Chicago store in Logan Square, but Ald. Proco "Joe" Moreno (1st) repeatedly threatened to block the company from opening a store in his ward citing anti-gay marriage remarks made by Chick-Fil-A CEO Dan Cathy. Mayor Rahm Emanuel echoed Moreno's sentiments when he said last July "Chick-fil-A's values are not Chicago values."
When the Loyola Water Tower store first opened, a small group of LGBT activists protested outside and distributed coupons for a free so-called "Bigot-fil-A Deluxe."
While it is unclear if LGBT activists again will target the new Chick-fil-A store, at least one individual associated with animal rights group Mercy For Animals was seen distributing pamphlets near the store Tuesday afternoon.
Meanwhile, Ald. Brendan Reilly, whose downtown 42nd Ward is home to the chain's only two locations at this time, has defended the chain and even ordered a catered Chick-fil-A lunch for all his City Council colleagues last October, CBS Chicago previously reported.
"The more people who are exposed to the good food, (they) understand these are good establishments to have in your ward, certainly for the jobs, but also it's really tasty food," Reilly explained last fall, as reported by WBEZ.
Moreno, for his part, did not take part in Reilly's lunch and rejected the gift on the grounds that "I am vegetarian and I don't think homophobia is funny," CBS noted.
Meanwhile, the chain's suburban footprint continues to increase. Chick-fil-A currently has 12 Chicago-area locations outside city limits and is looking to add more.
BEFORE YOU GO
PHOTO GALLERY
25 LGBT-Friendly Products & Companies Targeted By Boycotters