It's bad enough when a sinkhole is merely fouling up D.C. traffic. This is much, much worse:
BREAKING: Sinkhole swallows car in DC: http://t.co/I3iBZoIuRk

— wusa9 (@wusa9) June 18, 2013
This tweet inspired quite a bit of (understandable) panic on the internet:
AAACCCCKKKK!!! RT @aterkel: Sinkhole swallows car in NW DC http://t.co/uTUoqDiqfY ht @asmith83

— Greg Lipper (@theglipper) June 18, 2013
As well as at least one funny/reasonable observation:
seriously did we just build a city on a big pile of porridge? Sinkhole Swallows Car In NW DC | http://t.co/wFUAc08DVV http://t.co/kdZW6OWyxd

— Libby Edgar (@libbyliblib) June 18, 2013
But photos from the scene show something that is, thankfully, pretty undramatic:
Car close to sinkhole in NW parking lot but has *not fallen in @nbcwashington pic.twitter.com/FY00GfcjRL

— Erika Gonzalez (@erika_news) June 18, 2013
Better shot of car and sinkhole right under front tires @nbcwashington About 5ft deep pic.twitter.com/6pOdu2HvlV

— Erika Gonzalez (@erika_news) June 18, 2013
This more low-key take was confirmed by authorities, and, in turn, appreciated by Washingtonians:
Well, THAT's a relief... RT @IAFF36 Update - 128 M St NW - Correction: car is not fully in sink hole as first reported, only part of vehicle

— Tiffany Bridge (@tiffany) June 18, 2013
Just after 6 p.m., WNEW reported that a tow struck was trying to remove the car from the 3-foot by 7-foot hole in a parking lot on M Street NW.
George Hawkins, general manager of the DC Water and Sewer Authority, told The Huffington Post at 6:20 p.m. that the agency is "investigating as we speak, but I do not have a report back yet. The report I have is that this is a sinkhole in a parking lot. I have seen pictures, but am awaiting further information."
It did not take awaiting to be sure, as WNEW reported, that sinkhole-related traffic delays were to be expected.
Meantime, remember in 2010 when a sinkhole really did swallow a car up the street in Chevy Chase, Md.?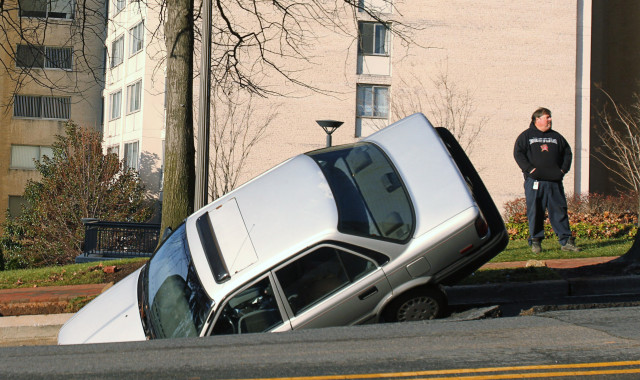 This is a developing story...
BEFORE YOU GO
PHOTO GALLERY
Gigantic Sinkholes