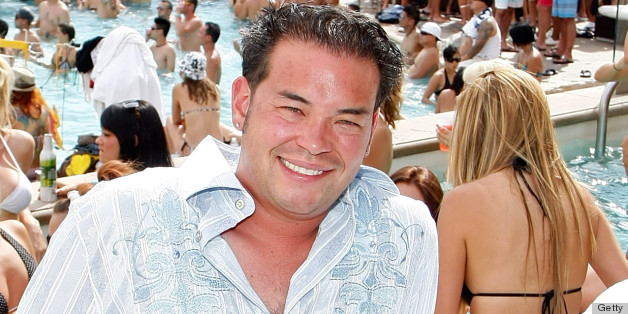 It's been a while since we heard much about Ed Hardy -- and Jon Gosselin is to blame, says the designer.
"That Jon Gosselin thing was the nail in the coffin," Hardy told the New York Post this week. "That's what tanked it. Macy's used to have a huge window display with Ed Hardy, and it filtered down and that's why Macy's dropped the brand."
The "Jon Gosselin thing" probably refers to the time Gosselin of "Jon & Kate Plus 8" fame was photographed in 2009 aboard a flashy yacht with Ed Hardy owner Christian Audigier. Gosselin was a diehard Ed Hardy fan, wearing the brand's signature tattoo-print tees all over Hollywood and even chatting up Audigier about a children's clothing line.
(Gosselin also got a massive Hardy-esque dragon tattoo on his back in 2010, but that's neither here nor there.)
But as Gosselin's star faded, so did Ed Hardy's. In 2010, the company collapsed and was forced to close stores, liquidate its assets, pay back creditors and give itself over to administrators at Deloitte. Just one year after being named one of Business Review Weekly's top Fast 100 companies, Ed Hardy was in shambles.
All Gosselin's fault? More like Christian Audigier's. Hardy tells the New York Post, "Christian worships celebrities so much, he will get next to anyone who is famous for anything." That included Gosselin, who had his 15 minutes of fame after his family's TLC reality series.
Unfortunately, Ed Hardy's fame survived approximately the same amount of time as Gosselin's. When's the last time you've seen a kid in an Ed Hardy shirt?
Read more from Hardy himself at NYPost.com.
More brands we now skip:
PHOTO GALLERY
Stores We Don't Shop At Anymore
Want more? Be sure to check out HuffPost Style on Twitter, Facebook, Tumblr, Pinterest and Instagram at @HuffPostStyle.