Up until the bill came, Joe Gibson seemed to have been enjoying a pleasant Father's Day.
He and his son had eaten a meal in St. Louis and shared some chicken, a soda and french fries. But at the bottom of the receipt, hidden below an extra $2.50 charge for his 4-year-old son's chicken leg, was another item: "1 - (F**KIN NEEDY KIDS)".
The name of the establishment? Friendly's. (Seriously.)
SCROLL FOR PHOTO
Reached for comment by the St. Louis Dispatch, Denny Domachowski, the owner of the sports bar and grill, said he'd apologized to Gibson several times after the profane receipt came to his attention. He stressed it was a joke.
"Normally, those [kitchen] instructions are cleared off the bill before it's printed out and given to the customer," Domachowski said. "But, obviously, they weren't." He added, "I can understand why the gentleman was upset."
Apparently, Gibson wasn't satisfied with the answer and posted a photo of the receipt on Facebook. In the caption he writes, "I asked the server why this was needed I got 'oh I'm sorry it was just a joke between a coworker and I. I'm sorry.' So customers with children are a joke?"
According to KSDK, Friendly's doesn't typically let in anyone under the age of 21. The restaurant also had broken the rules to serve Gibson's son an extra piece of chicken -- something it doesn't normally do. As it was Father's Day, however, Domachowski made an exception on both counts, a point some are eager to make.
"They accommodated you and your kid by a) breaking their own rules to allow you to bring him and b) broke their own rules by allowing a substitution. Yes customers in an adult bar with children are a joke," one man notes on Facebook.
In an additional statement to CNN, Domachowski said Gibson and his son had been good customers and that the waitress had been "in a hurry and forgot to take that off."
PHOTO (Warning: Receipt contains explicit language):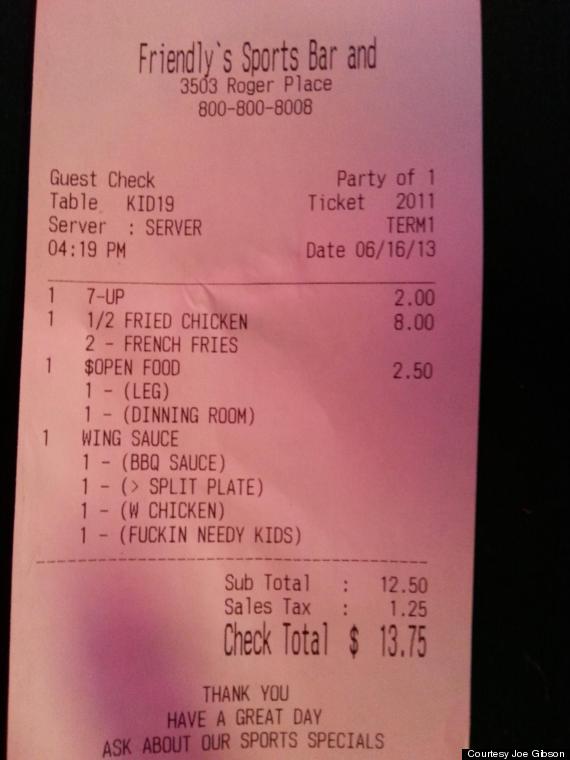 BEFORE YOU GO
PHOTO GALLERY
Outrageous Receipts (EXPLICIT LANGUAGE)